Single For Valentine's Day? Here's How Women Are Spending The Romantic Holiday
Pixelformula/Sipa/Shutterstock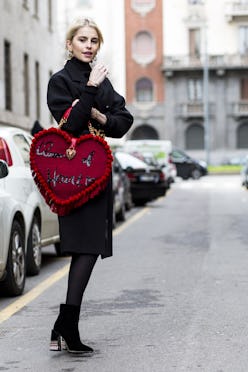 While some view Valentine's Day as a day specifically designed for significant others, many more see it as a celebration of love in general. And what greater love can one have than that of oneself? For this reason, the romantic holiday is increasingly recognized and celebrated by the unattached. So, if you find yourself single for Valentine's Day, you may want to consider treating yourself a bit.
This pampering can take on many forms. Maybe you fly solo for the day and spend some time at a relaxing spa. Or maybe you grab dinner and cocktails with your best friends. Or maybe you keep the party indoors and have a fun movie night with a side of pizza and beer. There's literally a plethora of ways to spend the romantic holiday even if you don't have anyone to get romantic with (or if you're simply not into the idea of it, which is fair).
To help you get some plans in order for the rapidly approaching love fest, ahead, you'll find four single women's take on Valentine's Day, as well as their thoughts on how to best spend it. So, remember to make this day about the first and truest love of your life: yourself.
Alanah Joseph, Freelance Editor And Writer
"Every year, I go through my 'ex box' which contains all the presents of Valentine's Day past from former boyfriends. I literally have a whole trunk — you shouldn't throw away or burn those things! I'll rifle through and reflect on how grateful I am that those people are not in my life and how I made the right decision in moving on.
One of the presents in there are some balloons that an ex got me that looked a little deflated when I first received them — like someone had given them to him and he regifted them to me. I'll just look at them and think about how inconsiderate he was and how happy I am now. I'm single, happy, ambitious, and proudly selfish.
When it came to all those past relationships, leaving was always so hard in the moment, but they were the best decisions I've ever made in the long run."
"I was in a long-term relationship for most of my adult life, and this is my first Valentine's Day as a single woman in about eight years. This sounds cheesy — like, the entire holiday is kind of cheesy so I'm going to lean into it — but the demise of my relationship showed me that the most important relationships are not necessarily romantic, but are the friendships I have with other women. So this year I'm going full Leslie Knope and celebrating V-Day with the poetic and noble land mermaids in my life. A quiet night in with a few of my closest girlfriends (and wine — lots of wine) is exactly what I need."
"In my 20s, I was always sad on Valentine's Day because it made me feel unwanted. Now, in my 30s, I find myself seeing things so differently. I feel like spending the day (or any other day) with the wrong person is not ideal.
So, the last few years, I've made it a tradition to write a love letter to myself. I include things I like about myself and things I've accomplished. I also like to write handwritten notes to my girlfriends, and either have the single ones over for dinner or I'll treat myself to a spa day or some sort of pampering session. Maybe I'll do Champagne and a bubble bath this year! Either way, I try to stay pretty positive about it. I just don't let it bum me out."
Colette Hanna, Manager Of Integrated Marketing For Warner Bros.
"I've never felt great about the holiday, because I haven't had a significant other to spend it with, so I kind of feel reminded how single I am when the day comes around. However, I also feel blessed to have a lot of great girlfriends — many of which are single, too. So, we'll usually go to dinner or see a movie. It's nothing wild or crazy, but it kinda does the trick. I like being able to be social and spend time with people I care about and love. That works for me."