Drunk Elephant's Newest Product Finally Launched & Fans Are Going To Be Thrilled
Courtesy of Drunk Elephant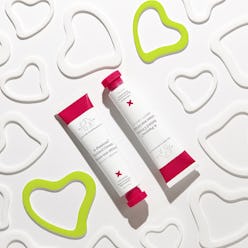 When Sephora's best-selling skincare brand first began teasing a Drunk Elephant retinol cream on Instagram, fans went nuts. An animated short on the social media platform teasing the cream has been viewed almost 60,000 times — which makes sense, because it was Drunk Elephant's most-requested product on Instagram. You can join the hype, too, because Drunk Elephant's A-Passioni Retinol Cream launched on Sephora's website Dec. 26.
Retailing at $74, the cream contains one percent vegan retinol to help reverse sun damage, wrinkles, and fine lines, all the while evening out your skin tone. It's also formulated with the moisturizing ingredients Drunk Elephant fans already love, like marula oil and vitamin F (a fatty acid found in Drunk Elephant's 4.5-star rated D-Bronzi Anti-Pollution Sunshine Drops).
Though retinol has often been thought of something that's not for everyone — and you should take caution when using retinol on sensitive skin like your under-eyes or in tandem with certain products — Drunk Elephant wanted to make a gentle retinol that wouldn't irritate skin (aka retinol redness).
Like other retinol products, the brand suggests starting your relationship with the A-Passioni Retinol Cream slow: Apply a pea-sized amount of the cream at most to your face morning or night only once or twice a week, before building up to more routine use. Drunk Elephant also suggests using a broad spectrum sunscreen with the cream — though you should be wearing sunscreen every day already.
Given that so many customers requested this product from the brand, why did it take so long for it to come out? Tiffany Masterson, Drunk Elephant's founder, tells TZR in an email that she wanted to be sure she understood it completely to help create the right product.
"When I launched Drunk Elephant, I didn't understand retinol and it took me some time to get my head around it. We had some doubt about retinol because it appeared to be unsafe in certain circumstances," explains Masterson. "After a lot of research, what we found is that retinol is absolutely safe when formulated and used properly, and any potential risk from retinyl palmitate doesn't translate to retinol. (We don't use any retinol esters — there isn't enough research demonstrating their effectiveness or safety in our opinion.)"
You may have some preconceived notions thanks to retinol you've used in the past, but the brand took special care to make sure it was its own product. For starters, A-Passioni is also packaged in a way to protect the stability of its ingredients from light and air — but it goes much further than that.
"When it comes to potent actives like retinol, what you leave out is as important as what you put into a formula, as anything that is potentially irritating to skin will just make it more likely for you to get kickback from using it (i.e. peeling, redness or flaking)," explains Masterson. "We avoid the most common sensitizers—fragrances, colorants, drying alcohols or essential oils—none of which are used in any Drunk Elephant formula. We also avoid silicones, which can be pore clogging and reduce the ability for actives like retinol to reach skin and do the job you want them to."
The result? A product that combines retinol with other ingredients that makes for a gentle product that targets a variety of concerns, from acne to brightness and much more.
"Along with the retinol, supportive peptides restore bounce, resilience and a brighter clarity to skin while helping to even skin tone and texture without the associated redness and irritation," says Masterson. "Vitamin F, along with a curated blend of comforting passionfruit, apricot, marula and jojoba oils replenish essential lipids and moisture while antioxidant-packed kale, winter cherry and xanthophylls defend against environmental stressors. The result is that A-Passioni doesn't feel like a typical retinol — it feels like a more gentle, loving retinol for your skin."
Even if you're not one of the many fans that have been waiting impatiently to try the brand's latest launch, a new and effective retinol product is undeniably hard to pass up for any skincare fanatic. Fortunately, the product is now available at Sephora, and will be launching on Drunk Elephant's website on Jan. 2 as well. Continue below to make your purchase — because if the fanfare surrounding this is any indication, it may sell out fast.