The $5 Drugstore Moisturizer Your Dry, Flaky Skin Will Love
Ryan Kobane/BFA/Shutterstock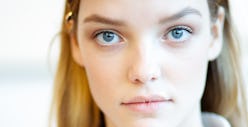 If there's a step you never, ever skip in your skin care routine, let it be moisturizer. A good one is essential for restoring skin's hydration and healing and preventing damage — but it doesn't have to cost an exorbitant amount. Some of the best drugstore moisturizers ring in at under $25 (no joke), and you can snag them during your next Target trip.
Sure, you could shell out a larger-than-you'd-like sum for a luxe moisturizer, but you can actually find equally effective formulas for much less from drugstore brands. And while your face soaks up the skin benefits, your funds will be freed up for use elsewhere. (Hello, Chloé snakeskin winter boots.)
The top rated and best selling drugstore moisturizers at Target run the gamut from SPF-packed daytime creams to super-rich overnight hydrating treatments, so you can find the formula best suited for your skin needs. Long gone are the days of one-size-fits-most cheap moisturizers that don't quite get the job done — this generation of drugstore skin hydrators uses some of the same technology you'd find in more expensive versions.
Among the cutting-edge moisturizers is the $15.99 Neutrogena Hydro Boost Hydrating Water Gel Face Moisturizer, which is packed with hyaluronic acid in a water-gel formula. The hydrating treatment is designed to deliver moisture instantly to skin and last all day, without leaving skin feeling greasy. The top-rated product has over 700 glowing reviews, with users backing the lightweight formula for keeping skin soft and smooth. Bonus: Lots of reviewers say it also makes a great primer before makeup application.
Also under the category of high-tech drugstore moisturizers is La Roche-Posay Toleriane Double Repair Facial Moisturizer, $19.99 for a 2.5 ounce tube. The brand is a French drugstore fave, and this five-star rated moisturizer is a top seller at Target thanks to its oil-free formula that's great for sensitive skin.
Fans of La Roche-Posay's product, which uses ceramides and niacinamide to soothe and moisturize, say it absorbs quickly and provides noticeable hydration right away, comparable to pricier products. Thanks to the EU's high standards for skincare, the French brand's moisturizer is also free of parabens, sulfates, phthalates, and aluminum.
You'll also spot longtime favorite beauty brands among Target's best sellers, like Pond's and Olay. There's good reason the brands' products have been used by generations of women (likely including you or some of your own relatives) — the no-nonsense formulas have been tweaked as needed over the years to stay on top of the latest hydrating ingredients, so users get the most bang for their buck. Try Ponds' $4.99 Dry Skin Cream for deep (and cheap) hydration.
Old faithful Olay's Regenerist Night Recovery Cream Moisturizer comes in right under the $25 mark at $24.99 — still a super-affordable option. The night time treatment has almost 1,000 reviews on Target's website, the vast majority of them backing Olay's claims that the moisturizer will hydrate, plump, and regenerate your skin overnight. Users have said that the cream soothes super-dry skin without irritation (thanks to the no-fragrance formula), and they've since ditched their department store creams in favor of this lower-priced product.
Browse some of Target's highest rated drugstore moisturizers below, and toss one or two into your basket the next time you stop by the superstore for essentials.