The One Major Home Upgrade You Need To Take Your Home Into 2020
Photographee.eu/Shutterstock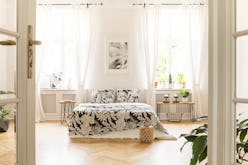 It's important to be introspective at the beginning of a new year and this can manifest itself in a ton of a different ways. One of the most common goals for 2020 is adopting healthier lifestyle habits, whether it be by cleaner eating, less social media, or more self-care — among other options. But for some, feeling like your best self also includes transforming the atmosphere around you to be more conducive to productivity or creativity, or perhaps to just make your home life feel a little more stress-free. And if you've been wondering how to improve your home for the new year, experts are predicting a few projects and updates that might help you do just that.
Whereas a few home trends seem to be on the decline (including monochromatic palettes, thick stone countertops, and all-black metal hardware), others are poised to be all over place in 2020. As a home expert for digital marketplace HomeAdvisor, Dan DiClerico has a few predictions for exactly what some of those will be and — spoiler alert — all of them involve making your home a lot more functional. Switching up your decor is one thing, but these updates — from the DIY-friendly to more major renovations — will have your space be as livable as it is easy on the eyes. So if you've been trying to figure out just how to bring your place into the new decade, read ahead for five things you can do to make it feel totally freshened up.
Easier To Maintain Kitchens
"The 2020 kitchen will be defined by how easy it is to keep clean and tidy — think stain-resistant quartz and durable porcelain flooring," says DiClerico. "Expect more people to ditch the all-white kitchen and embrace color, knowing that colored cabinets and walls don't demand the same level of obsessive cleaning." You might also consider switching to open shelves, which not only looks modern, but also gives you easy access to all the essentials.
Bringing The Outside In
"Stronger connection to nature is something we'll see more of in homes in the 2020," explains DiClerico. In terms of renovations, the expert says this could mean larger windows or circadian lighting that mimics natural light. Or for a quick fix, introduce some more indoor plants — whether real or faux.
Upgrading Your Shower Situation
"Today's tricked-out shower might feature luxurious rain showerheads, multiple body sprays, built-in speakers for music or the morning news, and other comforts and conveniences," the expert says. "Many of the showers are also curbless, part of the demand for increased accessibility, since the zero-threshold allows people of all ages and abilities to safely get in and out of the shower." And interior design pros say that having a feature wall in your shower is another way to make it feel totally current.
Weather-Proofing
With increasingly unpredictable weather, DiClerico notes that homeowners are taking more precautions to keep their home safe by climate-proofing them. One of the main ways to do this is by making sure your doors and windows have seals and locks to withstand flooding.
Syncing Up With Technology
"Heading into 2020, technology will be integrated into every corner of the home, including behind walls, where sensors will monitor the health of plumbing, wiring, and major systems," says DiClerico. "In fact, by the end of the decade, it's projected that nearly 13 billion smart home devices will be installed, far exceeding the number of people on Earth."