7 Chic Ways to Upgrade Your Home Before Guests Arrive for the Holidays
Dasha Muller/Shutterstock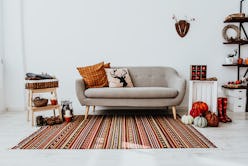 With the countdown to the holiday season officially on, it's time to start thinking about home improvements. And while a large-scale renovation may be out of the question, there's no reason why you can't revamp your home to give it some much-needed holiday sparkle. If even the smallest refresh feels outside of your comfort zone, never fear. The home renovation experts on The Home Depot's Home Services Team are well-equipped to help with your holiday, home project to-do list.
For aesthetic inspiration, we spoke to Kathie Mullin, a property manager at a stunning Hamptons estate and owner of Fork + Rose, a home decor shop, where Mullin is responsible for everything from organizing major events to overseeing her property's everyday operations. Here are some of her ideas for easy home upgrades before friends and family arrive this holiday season.
1. Freshen Up the Guest Bath
"The in-laws are staying for the holidays, and the guest bathroom needs a fresh look," Mullin says. "Easy changes to give it a new style are to update the vanity mirror and lights." Go a step further, she suggests, by enlisting install experts to quickly update your Bathtub and Shower with a custom liner. (Why this addition? Custom durable liners won't rust, peel, or crack, which means a low-maintenance upkeep for more bubble baths and less scrubbing in the future.) Additionally, she says, "Give your cabinets a fresh coat of paint, and your guests will be wondering when you had time to remodel the bathroom!"
2. Get Cozy With A Brand New Carpet Under Your Feet
A plush new family room carpet invites guests in, especially for gatherings around the fireplace. "There's nothing that makes a home feel more open and welcome for the holidays than sitting around an open fire with family and friends," Mullin says. Get your hot cocoa ready and prepare to decorate the mantle with all that is festive.
3. Give It a Fresh Coat
"Make any room fresh with new paint," Mullin suggests. "Behrs 2020 Color Palette Trends have a number of 'back to nature' options, my favorite being Light Drizzle for the living and dining rooms." Paint can be the ultimate upgrade. What better time to do it than right before company arrives?
4. The Heart of the Home
If you're looking to do one major renovation this season, consider the kitchen, Mullin says. "With the holidays coming, it's the perfect time to get it an upgrade. Total renovation is a consideration, but there are also more time- and budget-friendly options, like a cabinet makeover from The Home Depot, which will give your existing kitchen the new look you've been wanting." (And in as little as 3-5 days to install!) With a full list of kitchen-related services, The Home Depot's Home Services Team offers a full menu of renovation delights, from the small to the comprehensive, so you can decide how far you want to go.
5. Refresh Your Kitchen With A Tile Installation
Another way to refresh your kitchen is with a brand-new backsplash. The Tile Installation service at The Home Depot can brighten up your cooking space within 1-3 days, depending on the space and size of the project.
6. Treat Your Windows Better
A fix as simple as changing your blinds and interior shutters can make a huge difference in the look and feel of a room, Mullin says. "Add a touch of luxury to your nursery, guest bedrooms, or family room with custom roman shades with blackout lining. If possible, mount your blackout shades on the outside to minimize the light that can shine around the edges." The Home Depot offers a Blind Installation Service so that "you can focus on more important things, like getting ready for the holidays," Mullin says.
7. An Organized Life Is a Happy Life
Your space looks its best when everything has a proper place, so organization is key. For keeping a clutter-attracting room like the garage mess-free, Mullin suggests getting a custom garage storage system installed. The closet installation service is another great option. "When the holidays are done, it's time to pack away all your lights and decorations. Be sure to plan ahead with your garage storage system and containers, so that everything is organized for next year's festivities," she suggests. Those are a home decor expert's words to live by.
This post is sponsored by The Home Depot Home Services.