This Decor Trend Will Transform Your Bathroom Into Your Favorite Room
ImageFlow/Shutterstock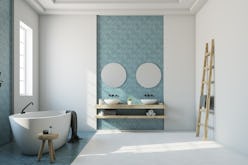 On the whole, bathrooms exist as mostly functional spaces — which means they can be one of the last places you consider when you're giving your home a facelift. However, with the right decor and styling, you can transform your space from a traditional bathroom to a luxurious toilette. And one trick designers have begun embracing as a means of adding some much needed drama or elegance is by creating a main point of visual interest, via colorful tiles to set off your shower or bold-patterned wallpaper. In fact, with feature wall ideas for your bathroom courtesy of the experts, your washroom could actually become your new sanctuary. No, really.
One major source of bathroom inspiration can be found in the recent Kips Bay Decorator Show House, during which a handful of talented emerging and established designers worked their magic in various rooms of a townhouse on Manhattan's Upper East Side. The soft-yet-graphic, feminine "Woman's Boudoir" was particularly of note — in large part due to the stunning statement shower wall and floor that utilized rose and lilac marble from Artistic Tile to create a total oasis.
Damian and Britt Zunino of Manhattan-based design firm Studio DB were responsible for this chic space, so they're certainly well-informed on what it means to create a featured wall in a bathroom that can take it from ordinary to extraordinary. And despite what you may think — it doesn't have to cost you and arm and a leg. Ahead, find their tips to getting your very own wow-worthy wall, including when to look for more affordable material and when to go for something more investment-worthy, as well as how to use color, pattern, and scale to your advantage.
Pick A Moment
"We love pattern and color and feel it's most successful when applied thoughtfully," Britt shares. "We often install graphic tiles in a ribbon of pattern on the floor and up one of the walls and keep the other bathroom walls quieter to maximize the pattern's impact without it being too busy. Another option is to keep the tile pattern confined to the shower or vanity area, like a little jewel box."
Keep It Balanced
"We recommend pulling colors or textures from the feature wall and incorporating them into the overall color scheme," offers Britt. "In the Kips Bay installation, we chose a soft pink Arabescato Rosa marble to compliment the custom Alison Rose x Artistic Tile but added pops of black in lighting fixtures so it feels a bit edgy and less precious."
Maximize Materials
If you're trying not to overspend, Britt suggests being strategic about where to splurge — even if it's just a small part of the space. "A little fancy tile can go a long way," she says. "If your budget is limited, use a less expensive, classic tile for the shower and splurge on the feature wall near the vanity or a beautiful backsplash."
Mix It Up
If you're working with tile for your featured wall, try mixing things up to create a little more of a personalized flair. "In a small bathroom we love playing with scale and contrasting materials," explains Britt. "We recommend trying a larger format tile or stone for a dramatic feature wall and using a smaller scale on the floor, instead of scaling down."
Mind The Details
It's not just about the tile or wallpaper you're using to get an overall dynamic effect. Your featured wall can stand out more or less depending on the other details in the room. "It's all about the details and how materials and shapes relate to one another," Britt says. "The finishes and accessories should complement one another and speak the same language. A great example is incorporating the pink and black rattan light fixture from Colonel into our Kips Bay installation. The arched shape plays well with the Euclid half-moon shaped tile."