Fake Plants Are Actually Cool Now, And Here's How You Can Expertly Style Them In Your Home
West Elm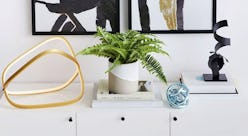 Not everyone is lucky enough to possess a green thumb, or has a home that even allows for the kind of urban jungle you see in influencers' photos — but that doesn't mean you can't make your space similarly lush. There's a new decor trend that could help you achieve those goals and it's even the secret weapon for a ton of highly Instagrammed spaces: It's the use of fake plants, and with the right styling tips no one ever has to know they aren't the real deal.
Before you turn up your nose at the thought of faux plants, there are a few things you should know. First of all, they're being made more realistic than ever. And not only that, some of your favorite interior decor brands are jumping on the trend. Stores like West Elm, IKEA, Target, and World Market all offer an impressive stock of artificial greenery that's totally legitimate.
Besides that, in some cases plant "parenthood" may actually be less sustainable as you think, as explained a recent article in The Cut. Yes, real plants offer air purifying benefits (not to mention more hydrated skin and a boost in mood and productivity), but depending on where you're sourcing your plants/planters and how you care for them, you may be doing more harm than good. And if you tend to just end up killing them anyways, they can be wasteful.
For these reasons, besides the fact that they don't require any water or sunlight, fake plants are cooler than ever. And if you're ready to jump on the trend, Los Angeles-based interior designer Alexandra Rae has some advice for shopping and styling that will help you make the most of yours. See ahead for everything you need to know before you buy.
Check For Quality
According to Rae, it may just benefit you to shop for your fake plants IRL, so you can get the best sense of their look and feel. And often times. the best-looking ones could cost you a couple bucks more. "Buy the best quality you can find," she says. "Cheap fake plants are the least convincing. In the end, they'll be worth the investment."
Be Strategic With Placement
Rae's rule of thumb for styling with fake plants is to use them in places where they're slightly more out-of-sight/out-of-reach, like in hanging baskets or as accents on shelves (even if it's just a stem or two in a vase). "Style your bookshelves with fake maiden hair ferns in pretty pots for a fresh pop of greenery, or bring life to a back corner with a potted faux fiddle leaf fig tree," she explains, adding that you shouldn't skip out on certain details that help add authenticity. "Be sure to use a cache pot that would be large enough to realistically support a living tree. Add moss at the bottom for a more finished and convincing touch."
And Rae also loves to use faux greens in addition to real ones. Based on the aforementioned tip, that would mean you place your living plants where they're most noticeable. "I pick and choose which plants will be fake based on their difficulty and placement," she says. "My favorite two plants are maiden hair ferns and fiddle leaf fig trees. But, I kill as many as I buy, so these are obvious choices for fakes. In areas where you want greenery close to the naked eye, opt for easy maintenance, hard-to-kill plants like pothos and peace lilies."
Fake Plants Need Love, Too
Just because they don't need water, soil, or sunlight, doesn't mean fake plants don't need a bit of care. "Be sure to maintain your faux friends," shares Rae. "Ok, they're much lower maintenance than their living counterparts, but they still require some weekly attention. Keep them dust free with a magnetic duster and be sure to swap them out if they become faded by sunlight."