The Sneaky Way That Estrogen Deficiency Affects Your Skin
James Gourley/Getty Images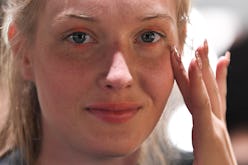 You're probably (definitely) familiar with estrogen as the main female reproductive hormone — you know, the one responsible for the growth of your boobs and the regulation of your period. But estrogen actually plays a big part in the health of your skin, too. As women age, estrogen levels drop, which precipitates menopause and something known as Estrogen Deficient Skin, or EDS for short. The signs your skin is lacking its favorite hormone? Dryness, dullness, fine lines… basically, all the markers of premature aging. In other words: A little extra estrogen may be all you need to maintain your youthful glow.
"Estrogen has a beneficial effect on the skin, enhancing wound healing and helping to promote skin hydration, along with collagen and elastin production," Dr. Joshua Zeichner, a dermatologist at Zeichner Dermatology in New York City, confirms to The Zoe Report. "During the perimenopausal period, estrogen levels tend to decline in women." The perimenopausal phase comes before menopause — sometimes, significantly before menopause. Perimenopause is most likely to start in your 40s, but has been shown to start in the 30s (and potentially, even earlier than that). Cue sagging, loss of moisture, and wrinkles.
So, how can you tell if you're dealing with run-of-the-mill aging or EDS? First of all, your age is a factor — the issue primarily affects women in their late 30s and beyond. "Women may be experiencing EDS if they notice their moisturizer is no longer working, their skin has lost its 'glow,' or they may have more [creases] around their eyes, lips, and nose," a representative for Emepelle, a skincare brand focused on treating EDS symptoms, adds in an email to TZR. If you want to know for sure if you're estrogen-deficient, Dr. Zeichner suggests asking your doctor about a specialized blood test to detect hormone levels.
"Treatment" for EDS doesn't have to be drastic — dermatologists don't necessarily want you rushing to get hormone replacement therapy or estrogen replacement medication. Instead, experts say the focus should be on smart skincare and lifestyle changes. "Stick to ultra-hydrating ingredients that will not disrupt the outer skin layer," Dr. Zeichner says. For the body, he likes Vaseline Clinical Care Extremely Dry Skin Rescue Hand And Body Lotion, since it "contains a complex of fats that fill in cracks and soften cells in the outer skin layer."
Dr. Zeichner also suggests incorporating collagen-stimulating ingredients into your facial care routine. Vitamin C, retinol, and hydroxy acids are all solid options, as is a new-to-market ingredient called Methyl Estraodiolpropanoate (MEP). "MEP technology helps stimulate collagen to strengthen the skin foundation and fight the effects of declining hormone levels," the dermatologist explains. As of know, Emepelle is the only skincare brand utilizing MEP technology (it can be found in the antioxidant-infused morning serum and collagen-boosting night cream, which also features retinol).
MEP is pretty fascinating: It absorbs into the skin and stimulates "estrogen receptors" the same way actual estrogen would, without the use of artificial hormones. "It's a non-hormonal solution with benefits exclusively to the skin without systemic effects to the body," a representative for Emepelle explains. "There is no downside," Dr. Zeichner agrees, noting that allergic reactions are always possible and, as with any product, you should discontinue use if you notice signs of irritation.
Piling on the products isn't the only solution for EDS, though. "Diet and lifestyle changes can certainly influence the skin," Dr. Diane Berson, a dermatologist based in New York City, tells The Zoe Report. She notes that certain foods can help (flax seeds, in particular, are a rich source of phytoestrogens), as can adequate sleep and regular exercise. "These lifestyle habits don't specifically balance estrogen, but work via other pathways, such as [reducing] inflammation and free radical damage," she says.
The most important thing to keep in mind is that Estrogen Deficient Skin, for many, is simply part of the natural process of getting older. That being said, the right skincare regimen can keep you as hydrated and glowy as ever — like the seven derm-recommended products, ahead.
Shop EDS Skincare