29 New Winter Skincare Picks To Fight Dry, Dull Skin
Kris Connor/Getty Images Entertainment/Getty Images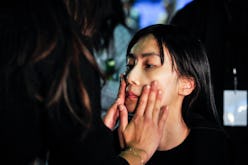 If you're binging Tidying Up with Marie Kondo like the rest of the planet, you might be resisting the urge to overhaul your entire wardrobe and medicine cabinet. And by all means, do you. But once you make some space on your shelf, there are plenty of new winter skincare products to add to your cart immediately.
A few product swaps couldn't come at a better time, according to derms. "If you enjoyed holiday beverages, you might be dehydrated," Dr. Heidi Waldorf, dermatologist and director of Waldorf Dermatology Aesthetics, tells The Zoe Report. And your skin feels it, too: "While you rehydrate your insides with more water and less alcohol, be kind to your skin," Dr. Waldorf says. "Use a wash in the shower or bath which strips away less of the vital barrier lipids and proteins and replenishes with a moisturizer to pull in moisture."
But getting your skin back on track won't be an overnight fix. When skin looks dull, there's always a tendency to try to scrub it off, but don't over exfoliate, Dr. Waldorf recommends. Exfoliation in moderation is fine (think: once a day with a gentle physical exfoliant like the Kate Somerville Liquid ExfoliKate Triple Acid Resurfacing Treatment, or three times a week with a glycolic acid cleanser, like Clarisonic Skin Renewing Peel Treatment Glycolic Acid Cleanser) but be sure to replenish moisture with a hydrating cream immediately, like Fresh's Lotus Youth Preserve Dream Night Cream, afterward.
And even though there's a ton of newness hitting the shelves, don't overhaul your entire beauty routine at once. It's exciting to test out and bring home new skincare products, but be sure to integrate new products in your routine slowly as possible — a toner here, a cleanser there. "Generally, I recommend getting on a regimen that works and sticking with it because the interplay between ingredients can be problematic," celebrity dermatologist Dr. Barbara Sturm says. "That said, if you want to try something new, always check the ingredients to be sure the product doesn't include any ingredients that are inflammation inducing, like heavy alcohols, as inflammation can be the cause for your irritation, breakouts, or allergies."
Ahead, all that January has to offer to start your skincare off right this year.
Cleansers
Serums and Oils
Exfoliants
Toners
Moisturizers
SPF
Retinols
Creams
Tools
Masks
Body Care