How To Cope With Sensitive Skin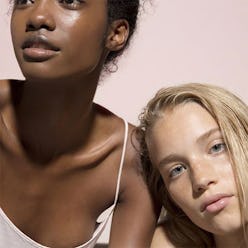 Whether you consider being sensitive a good or bad thing in general, when it comes to skin, most people would prefer not to be sensitive. Using the wrong product, a fragrance-laden formula or dealing with inclement weather can affect you adversely, causing skin to spiral into a reaction that can range from redness and itchiness to ultimately requiring a doctor's attention.
According to Chanel Consulting Dermatologist Dr. Amy Wechsler most people err on the side of caution, claiming their skin is sensitive on some level. Particularly during the winter months when most people are going from the biting cold outside to the blasting heat inside, skin is left parched, tight and prone to sensitivity.
Skin is left parched, tight and prone to sensitivity.
So besides redness and splotchiness, what exactly defines sensitive skin and how can you confirm you have it or should be treating it? "It can simply be someone whose skin does not tolerate products, resulting in an itchy rash, hives or irritation," says Wechsler.
She says that while a person isn't necessarily born with sensitive skin, it can come on temporarily due to stress, too much sun, trying a new product (particularly those containing Retinoids), hormonal changes, change in medication, pregnancy or breastfeeding. "Skin is our largest organ and has many connections to the brain, blood vessels and nerves," says Wechsler. "I see sensitive skin year-round, but winter is particularly hard because of the wind, cold and dryness. It can occur during any weather-pattern swing or when someone has a harsh change in his or her environment."
As if the dry air generated from wind or a heater wasn't enough, sensitive skin is also more prone to being dry rather than oily because as Dr. Wechsler puts it, "the barrier function of skin that is sensitive is not as strong. There's more transepidermal water loss, which means it's more easily dried out."
While sensitive skin manifests itself differently in everyone, Dr. Wechsler recommends keeping the following in mind when looking for the right skin regimen:
Beware of Botanicals
Just because a product is purchased at a natural food market doesn't mean it's safe for sensitive skin. If a product is packed with botanicals and food-grade ingredients you are allergic to when ingesting, the same allergy can apply to skin.
Just because a product is purchased at a natural food market doesn't mean it's safe for sensitive skin.
"A lot of plant extracts cause sensitivity and irritation," says Dr. Wechsler. "Many rashes I've seen are with people who are going to Whole Foods to buy skincare. Organic and natural are not necessarily regulated for skincare." She advises knowing what foods and plants you're allergic to. A dermatologist should be able to figure out when it's time to refer you to an allergist by looking at your medical and family histories and your diet patterns.
Spot Test Your Skin
No need to commit to a product before knowing how you'll react. Do a spot test for three nights or three days by applying a small amount of the product on your forearm to see how the skin on your body reacts and in front of your ear to see how the skin on the face responds.
BYOBP (Bring Your Own Beauty Products).
Holiday travel is upon us, which means hotel room and travel-size products. But if your skin is prone to sensitivity, don't risk it. Think about decanting the cleansers, creams and all other items that you know work for you. "I don't like people (with sensitive skin) to use hotel products," says Dr. Wechsler. "Have your own products in your kit so you're protected and safe."
One such product is a recent release that Dr. Wechsler designed with Chanel to specifically address the issues that arise with skin sensitivity. La Solution 10 De Chanel is a cream containing a set of streamlined ingredients, including a silver-needle tea that's soothing and extremely high in antioxidants. "If you have an episode of skin sensitivity once in your life, you are prone to it," says Dr. Wechsler. "I like people to be prepared."
Sensitive Skin Remedies
Here are several new-to-the-market products that those experiencing skin sensitivity (lifelong or temporarily) may want to check out:
Chanel La Solution 10: Silver-needle tea takes down irritation and soothes the skin while also providing unparalleled antioxidant protection.
Odacite Oleosomes Time Release Delivery Crème: A base of fresh organic aloe vera juice is particularly healing to sensitive skin. The time-released Oleosomes ensure all-day hydration.
Tatcha Soothing Triple Recovery Cream: This anti-aging moisturizer is rich in Indigo extract, Colloidal Oatmeal and Sophora Japonica extract to calm, comfort and restore skin's natural resiliency.
Burt's Bees Cleansing Oil: Made with coconut and argan oils, this cleanser removes dirt and makeup without leaving a sticky residue or stripping away skin's naturally protective barriers.
Wei Millet Sprout Mask: The millet essence in this mask works to even out skin texture and provide radiance, while antioxidants from green-tea leaf help maintain skin's elasticity and bamboo leaf soothes the complexion.
Simple Cleansing Micellar Water: Vitamins B3 and C and triple purified water work together to help remove contaminants known to irritate skin.
Eve Lom Brightening Cream: Enriched with rose otto oil, this cream increases hydration while restoring the skin's natural structure and combating premature aging and the appearance of dark spots.
Korres Wild Rose Daily Brightening & Refining Buff Cleanser: Powered by wild rose oil, this dual-action cream cleanser is gentle enough for daily use, naturally exfoliating skin with a blend of rice grain, cherry stone and sugar-citrus extracts for a luminous glow.