Meet The Cool New Skincare Brand Redefining What It Means To Be Clean
Ayond Skincare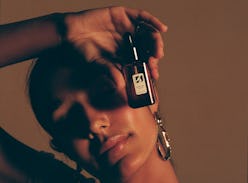 When Porter Yates and Shani Van Breukelen started researching safe, clean skincare options, they realized there wasn't a single brand out there they truly identified with. "We felt like a lot of packaging was wasteful, or it was heavily masculine or heavily feminine, or it was completely stoic," Van Breukelen tells The Zoe Report. "We started getting really interested in creating something." Two years later, the two have effectively filled that gap in the market with their new skincare line, Ayond.
Featuring clean ingredients, genderless products, and (oh-so-gorgeous) sustainable packaging, Ayond quite literally goes above and beyond standard skincare tropes. "Ayond means beyond. It's an archaic form of the word," Van Breukelen says. "It goes back to going beyond what people expect, or what you're told, or what you understand." Simply put, Ayond aims to move the skincare industry forward — a mission it's bound to accomplish, in more ways than one.
As with everything in life, the line started with a spark of inspiration, which Yates and Van Breukelen found in the unexpected pairing of Santa Fe and New York City. Yates was born and raised in Santa Fe — an artistic hub in the Southwest — and the founders met in New York, where they currently live. "Santa Fe is open, quiet, and peaceful; and New York is dynamic and non-stop," Yates tells TZR. "We wanted to capture a balance between those worlds." In terms of products, that means formulations that protect the skin from all kinds of modern stress; from the cortisol-raising pace of New York, to the harsh climates of areas like Santa Fe.
"We were really into the cultural and artistic background of Santa Fe," Yates says — the eye-catching, earth-toned packaging is proof — "but then also found inspiration in some of the region's botanicals." Ayond's key ingredients (rock rose, wild desert sage, prickly pear, and amber, to name a few) are native to the area. Don't think that's a branding move, though; desert plants are actually some of the most effective skincare ingredients in existence. "Santa Fe sits at 7,000 feet, so it's high altitude," Yates tells TZR. "It snows and gets cold in the winter, and in the summer, it's hot and dry; so a lot of the plants that come from that Southwest region have special adaptations and are very resilient."
No ingredient embodies this more than rock rose, the hero of the brand's Rock Rose Face Serum and Taos Blue Day Cream. "Uniquely, rock rose creates a resin as a special adaptation to deal with the environmental effects of the desert," Yates explains. "That resin coats the leaves and protects the plant from solar radiation and losing water, which is so precious to it." Essentially, the ingredient does the same for your skin: It locks in moisture and protects from environmental stressors. "It's been used in perfumery for millennia," Yates says; Ayond is among the first to bring it to market in skincare.
While rock rose and the other aforementioned ingredients are natural, the brand does use safe synthetics, as well; a philosophy, Van Breukelen says, that's rooted in sustainability. "I'd rather use [a synthetic] than decimate a whole forest just to get one monoculture," she says. "We're really trying to think about the entire concept [of being eco-friendly], and not just take from the earth. We do whatever's better for the environment."
That same mindset — which the founders call "creating with consciousness" — informs how Ayond defines vague, amorphous terms like "clean" and "eco-friendly" for itself. (As a refresher, the FDA doesn't regulate the use of "clean," "green," or "non-toxic," and there aren't standardized definitions of those descriptors.)
"'Clean,' for us, is kind of thinking about the whole process — the life of an object or a thing," Van Breukelen explains. "It's not just about the formulation, it's also about the packaging, the practices of a company. We're trying to be as conscious as possible." For Ayond, this includes evaluating everything from how the ingredients are sourced (for example, will harvesting a certain natural ingredient actually deplete its environment?) to how the shipping materials affect the planet.
"The brand is also certified vegan and certified cruelty-free — I wouldn't say that's 'clean,' but it's in the mindset of doing as little harm and trying to be as sustainable as possible," Yates says. "There are brands out there who probably categorize mineral oil as clean — but is mineral oil sustainable? No." Ayond even stretches its own definition of clean to include how substances interact with the skin. "Take retinol," Yates says. "You might be able to get results with it, but it's very sensitizing. Is that clean?" For him, the answer is no, so you won't find it in Ayond's products.
That being said, Ayond does subscribe to other standard "clean" qualifications. Its products don't include parabens, sulfate surfactants, silicones, animal byproducts, chemical SPFs, glycols, formaldehyde, heavy metals, petrochemicals, synthetic fragrances, or ethoxylated ingredients, like PEGs. (And yes, some of those scary-sounding substances — like formaldehyde and heavy metals — are very commonly used in regular skincare products.) Every ingredient used is evaluated based on Environmental Working Group safety scores and tested by dermatologists.
Finally, the brand boasts mostly recyclable materials in an effort to reduce stress on the environment. The products are housed in glass jars and bottles, which can be reused, repurposed, or recycled. As for things like caps and pumps, which are typically made of mixed-materials and aren't easily recyclable through local programs? Just send them back to Ayond, and the brand will take care of it for you.
Ahead, explore the first four clean, genderless, sustainable offerings from Ayond, all of which launched June 24. "We kind of developed everything into a world," Van Breukelen says. "We don't really see them as individual products." Yup, that means you're going to want them all.
Shop Ayond