Shopping For Clean Beauty Products Just Got Even Easier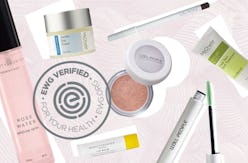 You can tell at a glance whether your granola is certified organic or fair trade—and it may soon be just as easy to vet whether your mascara is as clean as it claims to be.
The Environmental Working Group (EWG) has announced the launch of the EWG Verified program, designed to recognize the crème de la (face) crème of healthy personal care products. Until now, the non-profit's Skin Deep Cosmetics Database has been the go-to resource for label translation—products in the database are assigned a color rating and a points score (with 1–3 being the worst) based on how safe the ingredients on their packages are. (For the color rating, green would be the least sketchy.)
But EWG Verified takes things a step further, looking not just at the ingredient lists, but also at what's not on the package (like the specific formulations of fragrances), preservatives (side note: they're necessary), manufacturing practices, and more.
Now someone is actually evaluating the ingredients for you
"The EWG Verified program provides a lot more information about products, helping us to assess them on an even greater level than we are able to do with Skin Deep," says Nneka Leiba, EWG's deputy director of research.
For more on what it takes to become EWG Verified, read the full article here.