Does Your Home Decor Suit Your Personality? These Pro Tips Can Help
Photographee.eu/Shutterstock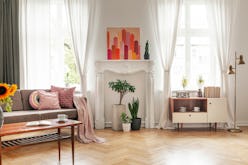 There are so many things that can factor into the way you style your home, from how you want your space to function to what colors simply make you feel good. But whether or not you focus more on the function or aesthetics of your place, if you've yet to choose your home decor based on personality, you just might be missing out on truly creating your dream pad.
These days you can find suggestions on how to dress your home based on everything from your star sign to the season — or even your favorite TV characters! That said, it shouldn't really be too surprising that the folks at Modsy recently teamed up with Pinpoint Predictive to determine ways to use your main personality traits as a means for making your interior as pleasing a possible.
Combining the info from Modsy's style quiz in conjunction with an AI-driven personality analysis, the digital design service's VP of Style Alessandra Wood considered some of the best and worst pieces to include in your home, based on the OCEAN model: Openness to experience, conscientiousness, extraversion, agreeableness, and neuroticism. Wood translated these types into (respectively): The Peacekeeper, The Good Neighbor, The Free Spirit, The Scholar, and The Social Butterfly.
Take the quiz, or just see below to see which feels most like you, then see what key pieces you may want to invest in — plus which you probably shouldn't spend your money on.
The Peacekeeper
According to Pinpoint, this personality type is confident, trusting, and self-controlled, and Wood suggests that Peacekeepers are most likely drawn to clean lines, order, and minimalism. "You don't have the space in your life for any clutter or negative vibes that come with it," she explains.
As for the must-haves for this personality type, Wood thinks simple and versatile furniture pieces are the most essential, like a neutral-colored, minimally designed sofa. And while she argues what Peacekeepers may want to steer clear of rustic and eclectic decor, you can still add a bit more personality by way of some sculptural accessories.
The Good Neighbor
Grounded, modest, and organized are some of the best ways to describe The Good Neighbor. Aesthetically, Wood points out, you're probably a fan of Chip and Joanna Gaines' famous farmhouse style. That said, you want to create an especially inviting space, which can be achieved by comfortable seating and furniture that offers warmth and texture — like a reclaimed wood coffee table.
As for color, combine both light and dark neutrals, and don't skip out on comfy details like chunky throw blankets and lots of accent pillows. In terms of what to avoid if you're a Good Neighbor, Wood notes that modern and glam decor probably won't be best suited for your space.
The Free-Spirit
Free-Spirit types are drawn to art, beauty, and nature, and are likely highly imaginative and creative. And according to Wood, that can be reflected by an eclectic decor that mixes up modern and vintage pieces with accessories that have their own unique story (trinkets picked up while traveling, family heirlooms, etc).
A good focal point for the Free Spirit? A vintage rug that's colorful and full of personality. Something that might not fare so well is anything too sleek or modern, like you'd find in an industrial styled home.
The Scholar
You'd probably describe The Scholar as intellectual and adventurous, and Wood believes that this type tends to work well with industrial styles. "Look for sturdy foundational pieces (neutral-hued sofa, iron open bookcases, hefty cement table), industrial materials (unfinished woods, exposed metal, leather with a rich patina), and a high contrast color palettes (charcoal upholstery and pillows, black-and-white rug)," she suggests.
As for what may not be as well suited to your type, Wood says that glam or eclectic styles are perhaps a bit too quirky for your taste.
The Social Butterfly
The Social Butterfly isn't afraid of a little attention, and that translates to their home decor as well. Think glam styles like Old Hollywood: Bold colors, sumptuous fabrics, metallic touches, and perhaps even a little animal print. "This style feels familiarly classic but can be made luxurious no matter the budget," says Wood. That said, Social Butterflies should probably pass on more rustic pieces and and more earthy textures, as they might not have the flair you're looking for.