This Is How Carrie Bradshaw's Apartment Would Look Today
New Line Cinema/Hbo/Village Roadshow/Kobal/Shutterstock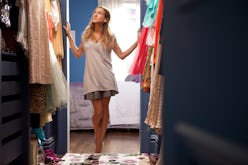 As unattainable as they may have been (In fact, that may have been part of their charm?) there are a few iconic TV apartments that always seemed to serve as major interior design goals. Among them: Monica Geller's cozy pad (the original one) from Friends, Carrie Bradshaw's West Village writer's nook in Sex And The City, and that butterfly themed bedroom where then-bestie Serena van der Woodsen temporarily crashed in Gossip Girl.
And while all of these aforementioned apartments are largely linked to their respective place in time, you can't help but wonder (*Carrie voiceover*) what they might look like today. Well, Modsy's Vice President of Style Alessandra Wood has actually already done that for you. Keeping the concept and purpose of key pieces in each space, she's considered what their modern counterparts might be. For example, what might Carrie's desk look like in 2019? And how might Serena's wall art be updated to still feel playful, but slightly more mature?
These questions and more are answered ahead, as Wood uses her design savvy to give these iconic residences a fresh feel for today's woman. So if you're a fan of these shows (and their decor) and are looking for a little inspiration for an update in your own space, read on to see what pieces these beloved characters might shop today.
Friends
The Sofa: "Monica's original sofa was large enough for at least three people to sit on," says Wood. "The brocade fabric makes it feel a bit dated. In a modern redesign, the sofa needs to be comfortable, even overstuffed. It should be inviting and warm, something that makes people want to linger and talk. Look for a transitional sofa with softer edges, down fill, and a deep seat for extra lounging."
The Dining Table: "The compact dining table was the scene for so many revelations about Friends," explains Wood. "The round shape is perfect for a compact space, but a more modern take might be an expandable version that could accommodate everybody's plus-ones at Thanksgiving."
The TV Stand: "Monica's TV stand was a beautiful, Art Deco chest," Wood says. "The vintage piece adds warmth and history to the space. Today, Monica might add a mid-century credenza for a collected look."
The Coffee Table: "The large coffee table acted as another gathering space in Monica's apartment, as the gang would crowd around to watch TV or chat about their day," explains Wood. "A large coffee table is essential in the space, so look for one that's sturdy enough for Joey to sit on."
Sex And The City
The Desk: "Carrie needs a desk to keep her inspired and we think she would splurge a few paychecks on a beautiful burl wood desk that will bring warmth and texture into her space," suggests Wood. "It's also a style that could transcend many apartment makeovers to come."
The 'Aiden' Chair: "To give Carrie's Aiden chair a 2019 upgrade, she would likely opt for a mid-century inspired chair," says Wood.
The Art: "Carrie's taste in art would have been as eclectic as she is, so I'd recommend one statement piece hung off-center above the bed. In her original apartment, she had a similarly hung trio of prints."
The Bench: "This is a staple piece for any fashionista who may try on six outfits before settling on the one. A bench at the end of the bed is the perfect place to stage the next outfit option or drape last night's clothes. In a modern redesign, Carrie's bench might be larger, but still upholstered — the perfect place to sit and buckle a Manolo."
Gossip Girl
The Wall Decor: "The butterfly wall decor in Serena's bedroom is an amazing 3D piece — it's a sculpture in and of itself," says Wood.
The Rug: "While her original rug is pretty safe — a solid color neutral — in a modern world, Serena would lean into classic patterns but in an updated way," the design pro says. "She'd be drawn to overdyed rugs for a whisper of color."
The Headboard: "Serena's bed is a sweet, classic pattern," Wood says. "She'd definitely keep a patterned, upholstered bed, but would opt for a more trendy pattern like Ikat or Shibori."
The Colors: "Serena's bedroom is filled with bright greens and yellows. An updated take of her bedroom would be equally as bright but would likely use more down to earth, rust colors that are trending on IG today. She'd incorporate beautiful, blackout drapes in the chosen color scheme as well."