This $5 Product Could Be The Key To Chic Halloween Party Decor
Igisheva Maria/Shutterstock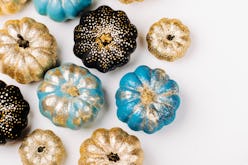 Just because you're past the trick-or-treating age doesn't mean there's still not some fun to be had with the upcoming holiday. Looking for some more adult-appropriate ways to celebrate? Perhaps a party at your place could be a festive yet chic option — even if you choose to do so in a zombie costume. And when it comes to your Halloween party decoration ideas, you might be surprised at the way experts advise making it a classy — as opposed to cliché — affair.
As an event and interior stylist in Los Angeles and beyond, Abby Pendergrast has learned to make everything from weddings to the local Boys & Girls Club art room look equally sophisticated. That said, she certainly has some tricks (pun intended) up her sleeve for a seriously stylish Halloween soirée — none of which include orange-and-black streamers.
But just because you stay away from some of the cheesier motifs of the holiday doesn't mean you can't still capture some of its classic elements. From your candles to your floral arrangements, there are a few key ways to dress up your Halloween plans and create a party you can be proud of. Check out Pendergrast's top four tips ahead to get yours underway ASAP.
Pick Your Motifs Wisely
There's a chic way to do some classic Halloween themes — like the traditional black-and-orange color palette. For example, instead of stocking up on cheap and cheesy garlands and glitter, use the colors subtly with your table decor. A good place to start? Your candles. "I'm all about candles when it comes to Halloween and these totem candles are my favorite — the combo of orange and black is festive but still chic," Pendergrast says.
Don't Forget The Florals
"If doing the orange and black thing isn't for you, you can incorporate other fall hues through seasonal inspired floral arrangements," Pendergrast suggests. You can utilize some fall produce (pumpkins, squash, persimmons) or even some dried plants and flowers for a seasonal feel that's also so grown-up.
Get Crafty
A metallic touch always makes things feel a bit more luxe, so why not apply that to your decor? "For a more modern look, I like the idea of painting pumpkins in shades of gold, silver, and copper accented with black," says Pendergrast. Plus, a can of spray paint will only cost you about $5, which means you'll get a totally rich look for just a few bucks.
Say It With Sweets
Just because you're having an adult affair doesn't mean it has to be boring. In fact, one of Pendergrast's favorite tips for a Halloween bash involves one of the most fun elements of the holidays — for both kids and grown-ups — and that's candy. "I have such a sweet tooth so naturally Halloween is one of my favorite holidays," she says. And she has a surefire way to use sweet treats as much as decorative items that just so happen to be delicious. "Create a self-serve chic candy display for pops of color," she recommends. Try showcasing them in various sized glass apothecary jars and leave little bags out so guests can create their own cute take-home gift.