This $3 Pumpkin Proves That Halloween Decor Doesn't Have To Be Cheesy
@potterybarn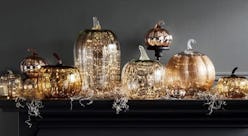 Around this time of year, most people fall into one of two categories: those who go absolutely nuts for Halloween, and those who could truly give a hoot. If it so happens that you're in the former of these, it's not just your costume that you're actively plotting (if you hadn't already decided on it months ago) — your home also gets a holiday-appropriate makeover. That said, if the usual faux-cobwebs, jack-o-lanterns, and other admittedly cliché items feel not quite right for your carefully curated space, you'll be happy to know that there are actually a ton of non-cheesy Halloween decor pieces that can still get you into the spirit.
There are plenty of ways to do a chic, mature version of Halloween that's still totally fun and festive — like putting a unique twist on a runway look or emulating your favorite iconic movie and TV character down to the details for your costume (in lieu of a generic, pre-packaged one). And if you're that thoughtful with what you're wearing to any spooky parties you're attending, why not give your decor the same consideration? You can still deck your walls (and doors, and tables, etc) with the usual motifs — like skulls and pumpkins — but in a way that feels more grown-up.
As for where to look for chic decor that still gives that charmingly haunted feel, even some of your go-to sources for tasteful, year-round decor are getting in on the action. Sure, you can sift through Party City for a few not-so-traditional gems amid the classic Halloween goodies, but even stores like Pottery Barn, Crate & Barrel, and World Market might surprise you with their cool holiday offerings. And of course, Etsy is a great option for creative handmade items you can't find anywhere else.
So, as you stock up on ingredients for festive cocktails, beauty products that will certainly get you into the spirit, and all the details of your costume that will make you the hit of the party, don't forget about your decor. To offer you a little inspiration. the ahead collection of Halloween-y but surprisingly chic finds should get you motivated to transform your home into stylish holiday haven — and none will cost you over $40.
The best part of this cute, mini pumpkin covered wreath? It's generally autumnal, you so you can keep it on display until winter.
A touch of glitter gives this spooky Halloween tree just enough glam.
The fact that these decorative skulls are covered in gold makes them feel extra chic.
This garland from Etsy is perfect for minimalists who still want to add a little bit of the Halloween spirit to their home.
On your mantle, your tablescape, your coffee table, or your front porch, this mini pumpkin provides just the right amount of holiday cheer — without disturbing your minimal color palette.
Cleverly disguised as an apothecary jar, this caramel apple-scented candle will also give your house the aroma of everyone's favorite Halloween treat.
More chic than spooky are these little ceramic crows that add a bit of macabre flair to your table setting.
A fun twist on the traditional Halloween string lights.
Elegantly say "Happy Halloween" with your front door decor.
If you only pick one subtle piece this year, perhaps it should be this sparkly skull candle.