You Don't Even Need To Dress Up For This Creative Halloween Activity
FrameStockFootages/Shutterstock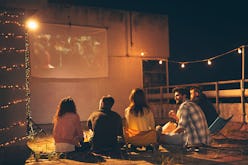 You might think of Halloween as a holiday that's mostly geared toward young people — like children and college-aged adults — due to a few key factors. For one, the trick-or-treating. Sure, plenty of grown-ups love candy just as much as the kiddos, but it just gets a little awkward to go door-to-door begging for it past a certain age. Then of course there are the costume parties. While all ages can get into the spirit by dressing up at their favorite animal, character, or whatever other clever concept, you may get less and less opportunities to do so in your adult years. That said, if you're still set on celebrating the holiday, there are a ton of cool Halloween activity ideas that you can plan for — with or without the costumes or makeup — that will make it just as fun as it was in your trick-or-treating days.
As a matter of fact, even if you hate Halloween, there might still be some mature ways to enjoy the holiday this year with the inclusion of your significant other or a group of friends who are also up for a good time. From scary movie screenings to classy dinner parties, you do have options that won't necessitate any costume creativity but allow you to use your imagination in other ways. However, if you do get some pleasure out of dressing up (whether sexy or not), there are ideas that can incorporate that, too — without feeling like you're attending a kid's party or a kegger. Curious? See ahead for eight grown-up ways to do Halloween this year and make it the most memorable one yet.
Scary Movie Screening
There's nothing like a classic scream-filled flick to commemorate the holiday. Take it even one step further by planning for a group screening with themed snacks and drinks. It might also be fun to see it on a big screen, so consider renting a projector from Joymode that will let you mimic a real movie theater experience.
Amusement Park
Get the thrills of Halloween without the spookiness by heading to a local amusement park. You can get a scare from the tallest rollercoaster there instead of by someone dressed as a zombie jumping out from around a corner.
Haunted House
That said, maybe haunted houses are actually your idea of a good time. Get a group of friends together and head to one for a hand-gripping good time (where they hopefully serve spiked cider as well).
Murder Mystery Party
So, there's still a bit of dressing up involved (if you really get into character), but a murder mystery party feels like a slightly more sophisticated way to do it — if a traditional costume party just isn't up your alley. Plus there are plenty of thrills to be had once you get into the game, and it gives you an excuse to entertain.
Visit To A Ghost Town
Up for a day trip? Research if there are any ghost towns or haunted cities near you and take yourself on a tour.
Grown-Up Dinner Party
Using chic, not cheesy, decor, throw a slightly themed dinner party that involves creative takes on Halloween for everything from your table setting to your cocktails.
Pumpkin Carving
Who says carving pumpkins is just for kids? Have a little fun with the totally traditional activity by seeing how creative you can get with your jack-o-lanterns. You can even offer a prize for the best one as a little incentive — oh, and don't forget the cocktails.
Escape Room
Another thrill-filled, interactive activity you and your friends can do together is visiting an escape room. It allows you to use your problem solving skills while having a blast. And according to relationship experts, it's not a bad idea if you're planning a first date on the holiday.