Free People's New Lip Balm Is The Fruit-Scented (& Super Affordable) Way To Soften Lips This Winter
Courtesy of Free People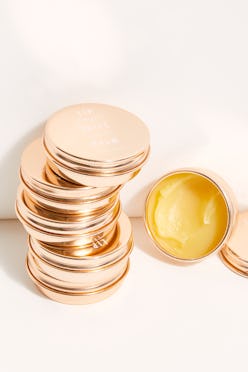 Just last month, beloved boho outfitter Free People expanded its already-huge (and consistently on-trend) beauty and wellness category in a big way: by introducing its very own line of natural beauty essentials. While its first launch appealed to anyone who's a fan of festive, glittery beauty looks, Free People's new Lip Juice Balm is a downright essential nobody would want to be caught without this season. And it doesn't hurt that it comes in three irresistible natural flavors and will only set you back $10 a pop. Three cheers for comfortable, soft lips.
Fan favorite clothing and lifestyle store Free People made its foray into beauty in November with the launch of its first naturally formulated makeup product, Mineral Shimmer, which joined its existing selection of self-care and beauty buys from indie-turned-incredibly popular brands like Moon Juice, Winky Lux, Fur, Youth To The People, and more. The super-wearable vegan gel pigment was introduced in four colors, each with a natural yet impactful shimmer for a glowy, eyes-wide-open look that pairs well with the brand's party-ready frocks.
But for the second installment in its clean beauty range, Free People went with something much more subtle, but no less essential in your beauty arsenal — especially this time of year.
Plant-based, vegan, cruelty and petroleum-free, Lip Juice Balm is like a cleanse for your lips, ridding the delicate skin of dryness and irritation to leave behind a soft, plush pout (even in the face of harsh winter weather).
The $10 balm is formulated to fall somewhere between a butter and an oil, with ingredients like coconut, hemp seed, and watermelon seed oil plus plant-derived waxes that melt into lips as it's applied for immediate hydration and natural shine. And thanks to the richness of those oils, you can expect the moisture and protection to stick around longer than a petroleum-based counterpart — without the heavy, gloppy texture.
Plus, Lip Juice Balm comes in three certified organic and natural flavors (that are free of any artificial flavoring or color): Watermelon Basil, Ginger Mint, and Tangerine Agave. Pick one that mimics the notes in your favorite juice for an instant perk-up anytime, anywhere.
Sounds pretty good, no? Score one, or all three, of Free People's new fruity, feel-good balms below.