Kosas' Brand-New Gloss Doubles As A Lip Treatment (Thanks To Everyone's Favorite Skincare Ingredient)
Courtesy of Kosas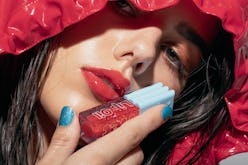 Years from now, when historians fondly look back at this decade's beauty trends, they'll undoubtedly recall the 2010s' eyeshadow palette boom, technicolor eyeliner shades, and — of course — lip gloss renaissance. With the return of all things '90s, so came back the poppin' glosses the modern fashionista wore years prior. This go-around saw improvements not previously charted, though; namely, a 2019 lip gloss is decidedly less sticky than its '90s counterpart. But the latest (and potentially last) great lip gloss invention of the 2010s has arrived, just months before the industry rings in 2020: Kosas' new Wet Lip Oil Gloss.
Retailing at $27 per tube starting Oct. 23, the Wet Lip Oil Gloss is more than just a, well, gloss. Yes, it's definitely glossy by nature — each of the five new shades will coat your lips in a shiny, bouncy sheen, depositing as much color as you choose (you can opt for Kosas' clear shade, "Jellyfish", as well). However, thanks to a bevy of skincare ingredients included in the formula, it doubles as a lip treatment, too.
It may even let you get away with skipping your go-to lip balm this winter. Kosas' Wet Lip Oil Gloss is formulated with moisturizing hyaluronic acid, plumping konjac root (also found in the Kosasports LipFuel Balm), and collagen-boosting avocado oil and peptides.
Besides the barely-there nude gloss, beauty fans can pick from four more colorful shades: blush-hued "Dip", classic pink "Malibu", deep red "Jaws", and berry-tinted "Fruitjuice." Like all other Kosas products, the new lip glosses are cruelty free, and made without parabens, phthalates, and other commonly avoided ingredients.
In case you need one more reason to stock up, Kosas is also running a special buy-one-get-one-free launch promotion on all Wet Lip Oil Gloss shades from Oct. 23 until Oct. 31 — inspired by those friends who somehow always end up pocketing your lip products. But hey, if you plan on keeping any shades you score during the promo for yourself, no one could blame you. Ahead, all five new colors of Kosas' Wet Lip Oil Gloss, available on Kosas.com.