The Best Eco-Friendly Glitter Makeup For The Holidays — & How To Wear It
Universal Soul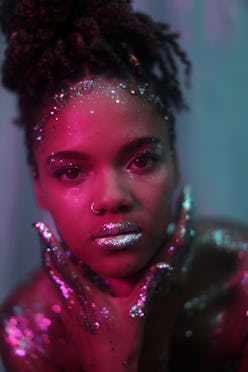 'Tis the season to sparkle. But that presents a bit of a problem, since 'tis also the season of sustainability — and the gorgeous, glittery makeup looks you've planned out for the holiday parties ahead aren't all that great for the planet. You may be wondering, "Does glitter makeup that's good for the environment actually exist?" The answer is complicated; mass-producing a sparkly eyeshadow isn't "good" for the environment, no matter how earth-friendly the ingredients. But does glitter makeup that's better for the environment exist? Oh, yes — and it just so happens to be some of the industry's best.
Before I get into eco-friendly options, though, a brief refresher on how traditional glitter impacts the earth: "The issue with glitter in makeup is that it's a microplastic and, just like any microplastic, it is extremely dangerous for the environment," Susan Stevens, the founder and CEO of Made With Respect, tells The Zoe Report. "Due to its small size, it passes through water treatment system filters ending up directly in our waterways, polluting rivers, lakes, and oceans" — at which point, microplastic particles are consumed by marine life. That's troubling enough, but from there, glitter can end up in the human food chain and thus, in human bodies. Even if you don't wash your glitter down the drain — say, you use a makeup wipe and toss it in the trash — it still has an environmental impact. That glitter will end up in a landfill, where it will leak toxicants into the soil for hundreds of years (and potentially be ushered into waterways via rain runoff, anyway). "Long-term health and environmental issues produced by microplastic contamination can be devastating," Stevens says.
OK, whew, that was a bit of a bummer — but it doesn't have to be. Beauty brands are coming through with sustainable and super-sparkly options this season.
For those who crave the thick, chunky flakes of traditional glitter, look for biodegradable versions made of plant cellulose, like the products from BioGlitz. "Glitter has always been a huge staple of our style vocabulary," Rebecca Richards, the co-founder of the company, previously told TZR. "However, our passion for sustainable fashion began to contradict our love of glitter — a toxic microplastic. We knew there must be a way to create a sustainable alternative to these powerful particles." Richards and her team found the answer in regenerated eucalyptus cellulose. It looks and feels just like regular glitter. (For proof, peek at the latest Gypsy Sport runway. Yup, bio-glitter is New York Fashion Week-approved.)
If you're more into buildable shimmer, consider mica- or mineral-based powders. "We wanted to create beautiful, clean, good-for-your-skin shimmers that are good for the planet, too," a Free People representative tells The Zoe Report of its new Mineral Shimmers. "These beauties do not contain any plastic or silicone ingredients. We dreamed up a shimmer derived from minerals in a lightweight, never sticky base of birch juice, glycerin, and witch hazel, which provide moisturizing and soothing properties."
The blend contains mica as well, a common glitter alternative also found in Victoria Beckham Beauty's clean "glitter" shadow. It's worth noting that there are concerns about how companies source their mica, though, as child labor is often involved. If supporting sustainable, ethical products is your goal, it's important to ask any beauty brands that formulate with mica where theirs comes from. "We confirm the mica in our products are sourced responsibly and ethically," Free People says. "We only partner with manufacturers that certify that child labor is not used in mica mining or manufacturing process."
Worried eco-options won't work as well as the plastic stuff? Don't be, says Dominique Lerma, an editorial makeup artist and Executive Artist for MODA Brush. "The best thing about technology is that it is always progressing and this is very noticeable in the beauty industry," she says. "Clean beauty is not what it used to be 10 years ago — it is so much better." She's a fan of Bodyography's non-plastic glitter pigment, which she applies with the shader brush from MODA's Renew Complete Kit, a biodegradable brush set made with a plant-based polymer, for an all-around eco-friendly look.
Ahead, 10 ways to twinkle responsibly this holiday season.
Shop Sustainable Glitter Makeup