This New Essie Collection Proves The Shimmering Nail Trend Is Still Going Strong
Essie/Instagram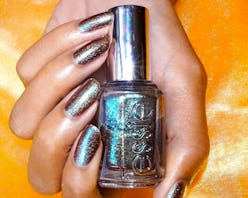 As far as your nails are concerned this season, all signs have been pointing to shimmer, sparkle, and shine. Ultra glamorous updates to all of your favorite manicure shades have been popping up left and right, encouraging you to give in to the glitz. And just added to the mix is the Essie Mercury in Retrograde III collection, which dropped two more delightfully dazzling polishes — in unexpected colors inspired by the very infamous celestial phenomenon. You may not enjoy Mercury's inevitable return to retrograde, but you'll love the look of these polishes.
In case you hadn't checked in on the cosmic calendar lately, you should know that Mercury goes retrograde once again in just a few weeks (on Oct. 31 to be exact). It's the third and final time that the innermost planet, which lords over the realms of communication, thoughts, technology, and travel, will switch up its orbit in 2019.
And while the three week period may throw some major curveballs your way — maybe don't buy the new iPhone until after it passes — there is one good thing to come out of this season's retrograde: another installment of Essie's fan-favorite Mercury in Retrograde polish collection. It may not be enough to distract from whatever the planet may be plotting against you, but it's certainly a start.
The Mercury in Retrograde III drop, which is now available at Ulta for $9 each, follows in the footsteps of the brand's previous two installments — the second of which launched June 30 ahead of July's Mercury retrograde. This new two-shade installment, however, is quite a departure from the electric pink hues that arrived this summer and the dreamy purple colors that came before. Though still ultra-shimmery (and subsequently on-trend), the cheekily named It's Not You... and ...It's Mercury lacquers navigate uncharted celestial territory in rich golden and glimmering green polishes.
But It's Not You... isn't your run-of-the-mill gold metallic lacquer. Essie infused the multidimensional polish with cosmically inspired pearl particles and peach reflects, to create an otherworldly shimmer that stands out from standard gilded shades. And ...It's Mercury somehow manages to be several colors in one, with an iridescent base of cool forest green and coral, golden, blue, and purple sparkles and shifts. If standard fall hues weren't doing it for you, consider these the space-inspired shake up your manicure's been missing.
The bad news? You can't stop Mercury from going retrograde. But at least you can make sure your nails look nice, with Essie's newest sparkling drops below.