Essie Just Dropped A Stunning New Nail Polish Collection — & It's Bound To Sell Out
Courtesy of Essie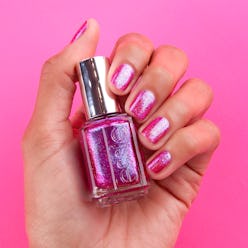 Typically, nail polish brands are inspired by seasonal color palettes, the weather, or the occasional swoon-worthy locale — and their collections' color stories follow suite. Essie's one of such brands: Its summer 2019 collection, which dropped in May, was inspired by Argentina and served as a celebration of all things neon. But with Essie's Universe In Reverse collection, the brand is turning its eyes to the stars.
As in, the astrological calendar. This year's collection follows in the footsteps of Essie's Mercury in Retrograde duo, which nail aficionados will remember since it sold out fast. "Last year we saw an amazing response from our Essie fans to Mercury in Retrograde — the collection completely sold out online in just a few days. We can't wait to build on that momentum and see everyone get their hands on this new duo, exclusively at Ulta," Greg Hui, Vice President of Marketing at Essie, tells The Zoe Report via email.
Which you'll be able to do sooner than you may realize. Essie's Universe In Reverse collection is already available online at Ulta for $9 per bottle, and will arrive in stores June 30. (Just in time for Mercury to go into retrograde July 7. Hey, at least your nails will be cute.)
Although there's nothing subtle about any of summer 2019's nail color trends, Essie's new collection bumps up the vibrancy, layering on a multifaceted, pearl particle-infused sparkle. "Building on the success of last year's Mercury in Retrograde launch, we've created two new limited-edition shades inspired by the cosmic chaos this time of year always seems to bring!" Hui explains. "The Universe In Reverse collection features bright, poppy colors, a bubblegum pink and a royal purple, in contrast to the moody hues of last season."
The two shades — "Happy Medium" and "Get A Psy-Kick Out Of It" — are ferociously feminine. The effect of the added pearl isn't lost in the bright shades, too: "Similar to Mercury in Retrograde, the formula has a unique multidimensional pearl effect for the ultimate shimmer," Hui notes.
"They both have a dazzling, flashy violet shimmer that makes them essentially nail art in a bottle," adds Essie's Global Lead Educator, Rita Remark. "I love that they're versatile. With one coat they apply sheer which is perfect for a cosmic jelly manicure (especially if you're wearing glass tips) and it makes them ideal for layering — if you want to give your favorite color a little something extra. With two coats, they give full-coverage color, so you can really customize them. Because they both share the same glitter undertones, they're also brilliant in a mismatched manicure. I'd absolutely recommend polishing them in tandem — pink, purple, pink, purple."
The next Mercury retrograde may be coming up quick, but thanks to Essie's new collection, you can just sparkle your way through it. Below, the two new Essie shades from the Universe In Reverse collection, available on Ulta's website.