ORLY's New Nail Polish Collection Features The Unexpected Shade You'll Be Obsessed With For Fall
ORLY/Instagram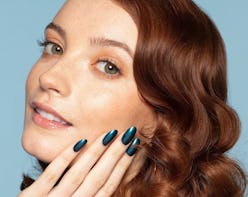 When summer comes to its sad, but obviously inevitable end, a sort of back-to-business attitude tends to descend upon everyone. The relaxing, carefree vibes disappear in favor of buckling down and re-committing to goals so you can finish the year off strong — and while that's all well and good, it doesn't mean you should have to completely ditch your daydreams. Luckily, ORLY's Fall 2019 collection plans to pack an unexpected, otherworldly punch in your manicure game this season, with stunning shades that are a dreamy departure from fall's typical hues. This one's for the romantics who aren't quite ready to let go of summer's levity.
Like nearly every other beauty brand, much-loved nail care line ORLY is gearing up for the season ahead with a fresh new fall-ready launch. But there's something about ORLY's that really stands out. Unlike those other polish drops that are full of earth tones and other grounded, albeit gorgeous hues, this nail collection skews much more celestial in its inspiration. The Dreamscape collection for Fall 2019 will help you keep that light and airy feeling of summer alive and well as you head into the rest of the year. A dream come true? Quite possibly.
The six-polish Dreamscape collection, now available on ORLY's site for $9.50 a pop (or $57 for the full collection kit), is arriving just in time to help you preserve that last little bit of summer joy. The celestial, cerebral colors aren't your typical fall shades — instead they range from feminine, shimmering pastels like soft mauve and silvery lilac to moody, rich tones like charcoal gray and iridescent deep teal. You'll find modern takes on classics, like a sweet pale pink that's been updated with a blue shimmery shift and an essential cool-toned mid gray that'll be more than fitting for your fall wardrobe.
For an incredibly unexpected autumnal manicure, reach for the rich teal Air of Mystique on fingers and balance out with soft, warm mauve Dreamweaver on toes. While your digits will certainly speak for themselves, they won't clash with the earthy neutrals and bold hues you'll likely be sporting this fall — in fact, the combination of celestial shades and more grounded colors will create a surprisingly harmonious look. Try charcoal gray Into The Deep for an inventive spin on the moody black manicure, or silvery lilac Free Fall for a fresh feminine take on subtly shimmery nails (a major trend for fall).
Fall may mean you're thrown right back into the thick of things, but you can maintain an element of airiness with ORLY's unexpected new collection. Snag your favorite shades, below.