Does Your Scalp Really Need Detox? Experts Weigh In
Pascal Le Segretain/Getty Images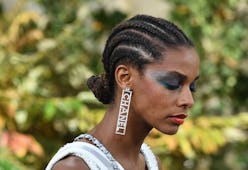 With Kristin Ess' recent launch of scalp-focused products at Target earlier this month and Act+Acre's three-piece hair cleanse system, scalp health is really hot right now. But apart from the occasional scrub or application of a medicated dandruff shampoo, scalp care is uncharted territory for most beauty enthusiasts — which leaves room for a lot of questions. Namely, do scalp treatments really work?
"Scalp detox is something that isn't spoken about as regularly as clarifying treatments of the actual hair," Caitlin Richardson, a celebrity colorist and owner of Los Angeles' Blonde Blond salon, tells The Zoe Report. "But scalp detox is just as — if not more — important, because this is where you hair grows from." In order to have the healthiest, strongest hair possible, it should grow from a scalp free of buildup; which can include everything from dead skin cells to environmental pollutants, old product, and excess sebum.
While that doesn't exactly sound glamorous, there's no reason to be squeamish about scalp buildup: Everybody has it. Problems can arise if you don't deal with the buildup, though. "It can encourage scalp problems such as hair loss and itchy, flaky scalp conditions," Sophia Emmanuel, an IAT certified trichologist, tells The Zoe Report. "Your hair will still grow if you have buildup on your scalp, but the skin may be prone to irritation and dandruff."
Enter the latest scalp detox products on the market, most of which are designed to be used pre-shampoo. "Using it before you shampoo your hair helps lifts dead skin cells and oil off the scalp more thoroughly than shampoo," Emmanuel says. Many products, like the Kristin Ess Instant Exfoliating Scalp Scrub, contain exfoliating agents to help cut through any stubborn buildup, as well. "Compare it to exfoliation of your face," Richardson suggests. " How dull and clogged can your skin get on your face without exfoliation?" That's pretty much what's happening to your scalp if you're not regularly detoxing — it is, after all, part of your skin and deserves skincare-level attention.
This concept was inspiration for the just-launched Act+Acre line of hair wellness products. "Our mantra is, 'Treat your hair like you treat your skin,'" Helen Reavey, Act+Acre's founder, tells The Zoe Report. "Healthy hair begins at the scalp, and healthy hair always looks good." The brand's Cold Processed Scalp Detox relies on basil leaf to remove impurities and dead cells, while moringa oil hydrates and delivers nutrients to the hair follicles.
"You immediately see and feel the benefits of deep-cleaning your scalp," Richardson tells TZR. "And what's better than instant gratification?" According to the colorist, you'll notice bouncier, cleaner-feeling hair — and your blowout just might last a little longer. "Think of it this way: The blow dry after a color appointment is always better than your own attempt," she explains. "Part of this is because your scalp gets super, extra clean." Basically, scalp care is the key to salon-worthy hair, every day.
There are long-term benefits, as well. Regular scalp detox helps the other products in your lineup work harder, since they're not fighting against oil or flakes. In turn, you'll actually be able to wash your hair less often without worrying about looking greasy.
"I suggest using [a scalp product] every five to seven days in the beginning to get the buildup under control, and then reducing it to twice a month after," Emmanuel instructs. But if you have a scalp condition like psoriasis or seborrheic dermatitis (aka, dandruff), consult a dermatologist before embarking on an scalp care regimen that includes exfoliators.
Ahead, assemble your ultimate scalp detox routine with 12 products loved by trichologists and stylists alike.
Shop Scalp Care