Do This On Sunday And You Won't Have To Wash Your Hair All Week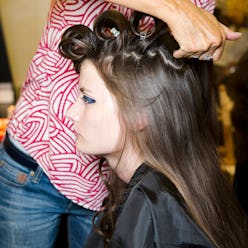 Whether you're trying to preserve a blowout or minimize strand-stripping shampoo sessions, you likely wish you could go a little longer between washes. Well, we've figured out a way to wait it out a whole week and still maintain amazing-looking hair—and it all comes down to your Sunday-evening routine. Read on for our steps to creating the perfect Old Hollywood wave, along with tips for making it last well into next weekend.
A Week's Worth Of Waves
Step 1: Blow-Dry
Start by rough-drying hair from roots to ends—no need to use a brush for this part.
Step 2: Curl Hair
Using a 1-inch barrel curling iron, curl hair down and forward, toward the face.
Step 3: Pin In Place
For each curl, use a bobby pin to secure it. Think of this as creating a set of invisible rollers. Start with a section down the middle (like a mohawk), then make your way along both sides.
Step 4: Let Curls Set
Once you've curled all sections, spray with hairspray and let sit as long as possible. Allowing your curls to fully cool (for up to an hour) before releasing them is what makes them last all week long.
Step 5: Brush Out Curls
Your hair will be really curly once you've released the bobby pins. Use a boar-bristle brush to soften it into romantic waves.
Step 6: Mold Your Style
To really nail that Old Hollywood cascading wave, a few strategically placed clamps can help mold your hair into the perfect shape. Spritz with hairspray then allow to set for a few minutes while you're getting dressed or adding a few finishing touches to your makeup.
Step 7: Make It Last
Now that your curls have taken shape, they'll last until your next wash. If you can, go at least two days without dry shampoo. Once you're ready to use it, on the third or fourth day, the lift it gives you at the root won't look out of place since you'll still have body throughout. Brush the style out every day to reactivate the curl, and add hair serum to the ends for shine. If you feel like you need a wash, try a soft pony on day five, and finish strong with a braid on day six.