The Buzzy Tech Product That's Perfect For Those Who Don't Have Time For Spin Class
esp2k/Shutterstock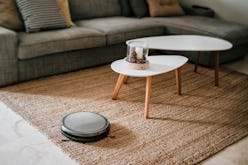 What a time to be alive! It seems like every day there's an intuitive new invention that promises to make your life a little easier, from apps that can deliver your favorite food straight to your door without hardly having to interact with another human to vehicles that offer hands-free parking into even the tightest spots. And over the past few years, technology has entered the home in ways that make you feel safer and more savvy by leaps and bounds. When it comes to cool home tech gadgets, things have come a long way and even for those who consider themselves less than well-versed with what's new and next, a handful of the latest home advancements might just be something you never knew you couldn't live without.
You may have shopped gadgets as gifts for the techies in your life, or dabbled with the latest beauty devices, but if you haven't been paying attention to the tech tools there to make multitasking, cooking, cleaning, and even working out at home a breeze — you've still got a lot to learn. When you're dabbling in the world of creating a smarter home, it can certainly feel overwhelming. That said, with a little guidance, it's easy to find — and use — the products that can benefit you the most. Ahead find six insanely cool gadgets that will make you master of your own domain in no time.
Smart Home Hub
A home hub is a great starter product to begin your smart home journey. Devices like Amazon Echo let you listen to (and change) music, set timers or reminders, and control other gadgets and appliances in your home with a simple voice command. The Google Home Hub offers a touch screen as well, to give you a more hands-on approach, plus it acts as a digital photo frame to add to your decor.
Smart Plugs
Smart plugs similarly allow you to control specific devices whether you're near or not. They may work along with your hub, or you can use them on their own by way of an app. Simply insert the smart plug into the wall, and your item into the smart plug — like your coffee maker or a lamp for example — to be able to have control over it whether you're in another room, or out of the house altogether. Bonus, they're also super affordable.
Smart Surveillance Camera
New technology is making home security easier and more affordable than ever. Take these doorbell cameras, for example, which allow you to see who's at your door even when you're not at home. They're also a great way to track packages or deliveries coming in and out.
Smart Kitchen Appliances
A few handy kitchen tools have also gotten the smart treatment. As if instant pots weren't already a totally useful gadget, the addition of digital technology increases its function tenfold. This bluetooth enabled, electric pressure cooker comes with free app that gets you access to tons of recipes recipes, plus it has pre-set programs for specific dishes, and you can change and monitor cooking progress from your smart phone.
Robot Vacuum
Not too long ago robot vacuums seemed like a luxury only available to the very wealthy. Nowadays, they're more affordable than ever, plus technology keeps making them more and more useful. The cordless, bagless iRobot is not only powerfully cleaning, but you can control it with a tap or two on your smart phone.
Interactive Fitness Mirror
Don't feel like dragging yourself to the gym? No biggie. An interactive fitness mirror lets you access workouts like barre, yoga, strength training, boxing and more from your home. And when it's off, your guests will just think it's a sleek full-length mirror.