The Beauty Gadget Zoë Kravitz Relies On For Getting Gorgeous Skin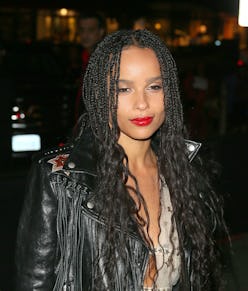 Natural-born beauty Zoë Kravitz doesn't need a lot to keep her skin glowing—you wouldn't either if you were the daughter of Lisa Bonet and Lenny Kravitz. For the most part, the 27-year old relies mostly on low maintenance products. When we sat down with her at the Yves Saint Laurent Mascara Vinyl Couture launch party, she told us, "I think I learned everything from my mother and father. We're a family of coconut oil—it cures everything. It's great for your hair, your body and it's even antibacterial!"
But someone with such amazing skin must have another secret up her sleeve, right? "Oh!" She remembers, "I have this device at home actually. It's a light that's supposed to kill bacteria, it's called LightStim! My boyfriend makes so much fun of me when I hold it up to my face." But with a complexion like that? Who's laughing now?
LightStim for Acne, $169
The non-invasive device uses UV-free blue and red lights that work together to kill bacteria and reduce inflammation, without damaging or drying out your skin.