29 Easy Gadget Gifts For The Man Who Claims To Want "Nothing"
Julien Boudet/BFA/Shutterstock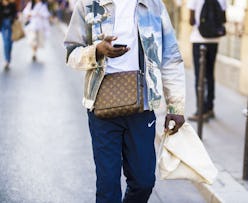 Men aren't always easy to shop for. While saying they don't "need" anything is a common refrain, more often than not, a tech-y gift will not only please, but serve as a source of pure excitement for hours after opening. Going beyond computers, phones, and smart watches, gadget gifts for tech-savvy men are those special items designed to simplify his life (and probably make it look more impressive). Sure, you can try to force a chunky sweater, sleek watch, or his-and-hers onesie on him (and to be honest, he'll probably low-key love any of these items), but if technological advances are the way to his heart, keep reading.
Whether he's into improving your shared abode (gift a smart home system), working on his sci-fi novella (digital notebooks), or spending an afternoon just listening to Frank Ocean on repeat (the latest wireless headphones) — yeah there's a technology gift that you can spring for. Armed with advice from experts, below you'll find a selection of fashionable and cutting-edge gifts so you can put all of your second-guessing and anxiety to rest once and for all. Give this a full read-through, and then shift your focus back to building your own wish list (because, well that's more fun after all). Whatever type of gadget the guys on your gifting list are into, at least one of the 29 gadgets ahead will gear him up him this holiday.
Headphones
"Every guy needs a good pair of headphones to tune out the inevitable chaos of the holidays, and you can't go wrong with Bang & Olufsen's wireless headphones," says Simon Spiteri, an accessories buyer for the men's retail site, MR PORTER. "The sound is impeccable. They come in a completely wireless option or over the ear, depending on his preferences."
Digital Notebook
Another cool technological gift with a practical feel is a digital notebook, like the Montblanc augmented paper leather writing set. "It's perfect for the guy on the go," says Spiteri. "Especially if he prefers taking written notes to typing. The pen instantly digitizes anything written in the notebook, sending it to your tablet or phone via Bluetooth or USB."
Home Technology
Smart home technology is the gift that keeps on giving for the tech-savvy guy in your life. "The coolest gifts this year: smart speakers, virtual assistants, and connected bike trainers are useless without amazing WIFI," says Todd Grantham, chief marketing officer of the smart home systems brand, Plume. "Our membership and adaptive WIFI keeps all of my family's gadgets connected, super reliable, and safe. It all just works, like it is supposed to."
Handy Gadgets
Take smart home gadgetry one step further with extras like security systems, thermostats, and trackers.
Everyday Tech Gear
If your tech guy is the stylish type who loves to geek out with a schmancy watch winder for his favorite timepiece or feels delighted by a sleek wallet that comes with a handy USB charger for his phone, there are plenty of gadget-y accessories that will suit his refined taste. "For the watch aficionado, ensure he'll be on time to all of those holiday parties with a Rapport London watch winder," Spiteri says. "Rapport London's horological products help preserve and extend the life of your favorite timepieces. They offer a sleek brushed aluminum winder that comes with multiple rotation options to keep his automatic watches running smoothly."
A Cool Organizer
Or, if he's the guy who already has so many gadgets (and charging chords!) but needs a stylish method for organizing them on the go — a slick, compartmentalized carrier is the gift for him. "Any gadget guy will need to charge his gadgets, so a lifestyle roll like This is Ground's Bandito roll, which has eight slots for his gear, chargers or even glasses, will keep his accessories organized in one place," Spiteri says.
Camera Gear
Maybe the tech guy on your list is super into cool camera gear — a digital camera with built in WIFI is definitely up his alley.
"For guys who love to capture and share the moment, there's nothing like Canon's new EOS R Full-Frame Mirrorless Camera," says Drew MacCallum, senior technical specialist of Canon U.S.A. "With the built-in WIFI and ease of use to share images instantly, this innovative system featuring the newly designed RF mount, which uses groundbreaking RF lenses and has full compatibility with the existing range of EF lenses. It's also equipped with an OLED electronic viewfinder and the rear touch display flips around, making it a great option for vloggers!"
Photo Accessories
To accompany a tech-savvy camera, MacCallum says a photo printer is the perfect add on, like the Canon IVY Mini Photo Printer. "It prints peel-and-stick 2" x 3" photos from your smartphone or social media account, is ultra–portable (lighter than a phone), and comes in sleek color options like slate grey, rose gold, and mint green," he says.
For the guy with an eye for photography, Spiteri says a Polaroid Originals instant camera is a gif that will impress. "There is a powerful flash to brighten the dark winter days and a self-timer for group photos or the selfie addict in your life. This version is charmingly retro and based off a first-generation model, but the design has been tweaked to meet the quality standards of today," he says. Drones, live-streaming cameras, and portable projectors make for great camera-guy gadget gifts, too.