15 Life-Changing Kitchen Gadgets At Target That'll Make Every Meal A Breeze
Target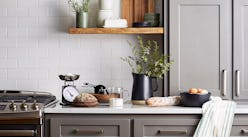 All Target shoppers usually fall into one of two categories: fashionistas that browse Target's clothing racks right after walking in, and the interior design-obsessed that wheel their bright red carts directly towards Target's cornucopia of home goods and decor. While you probably know which type of shopper you are (and your home reflects it), there is an aisle you shouldn't miss next time you stop in: the life-changing kitchen tools at Target.
On the surface, buying a can opener at Target probably seems less exciting than scoring cowboy boots under $30 or the perfect Opalhouse coffee table — but the Cuisinart automatic can opener might change your mind. Rated as a 5 star product from over 200 reviews, the convenient can opener uses powerful magnets and an electric opening mechanism to pop lids off of cans at the press of the lever. This luxurious kitchen tool doesn't have a high-end price, either; the Deluxe Can Opener retails at Target for just $16.49, making it cheaper than some manual can openers.
You'll see Target's OXO kitchen products over and over once you start shopping its kitchen gadgets, especially if you filter by "best sellers" and "average ratings". Tools like the $14.99 OXO Hand Held Spiralizer and the $12.99 OXO Softworks Box Grater will excite home chefs that see tricky problems they've faced in the kitchen solved; the small spiralizer fits right into your dishwasher and the grater's built-in storage container catches whatever you shred.
Changing the kitchen tool game is OXO's style, after all: the revolutionary New York home brand was born after the founder saw how difficult traditional metal food peelers were for his wife to use. Pick up the well-thought-out OXO Swivel Peeler for just $7.99, and see the decades of design at work. The blade of the peeler swivels while the plastic handle provides a firm grip, and the built-in blemish remover on top can be used to quickly discard unsavory bruises.
But Cuisinart and OXO are only two of the brands Target carries that'll simplify your life in the kitchen. Ahead are 15 kitchen gadgets that will make food prep, cooking, and cleaning that much easier — and each one has glowing reviews to back them up.