The Meat-Free Slow-Cooker Recipe That'll Literally Be Your Saving Grace This Winter
Brent Hofacker/Shutterstock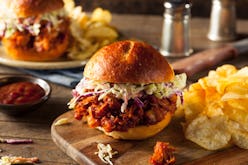 With all the shopping, wrapping, traveling, errand running, hosting, and otherwise preparing for impending celebrations, it can be easy to opt for takeout in lieu of cooking yourself a healthy, homemade meal. And while you're not alone in falling victim to the convenience of outsourcing dinner at your go-to restaurant, there's actually a way to prepare something wholesome while managing to simultaneously cross off everything on your to-do list — and it's probably sitting in your cabinet. Thanks to a handful of simple, vegan slow-cooker recipes, your crockpot can be a lifesaver this time of year.
Jessica McDonald is a Southern California-based food stylist and recipe developer as well as a blogger over at The Healthy Mouse, and as the title suggests, she offers a healthful slant on cooking. While slow cookers are typically associated with meat-heavy dishes like pulled pork or pot roast, she finds hers handy for meat-free, veggie-filled dishes. "I love creating crockpot recipes as a way to use up my produce at the end of the week," McDonald explains. "Not only does it eliminate food waste and save money, but there's endless flavor opportunities."
Whether using the tool to whip up her own her veggie-heavy vegan chili recipe, or an impromptu healthy dinner for her family, McDonald knows that slow cookers are a no-fuss way to prepare meals even when there's no meat in your recipe. And because the end of the year tends to be a time many people resolve to eat more plant-based or detox from indulgences (read: all those cookies), using yours might just be the key to healthier holiday eating. Ahead, find nine vegan dishes (including two sweet options) you'll want to enjoy all winter long.
Coconut Quinoa Curry
Loaded with sweet potatoes, broccoli, onion, and chickpeas, this curry gets its thick, hearty texture by adding the quinoa right into your slow cooker. And with the addition of flavor-packed ingredients like fresh ginger, chili flakes, and turmeric, you'll want to warm up with a bowl of this all winter long. Find the full recipe at Simply Quinoa.
Pulled Jackfruit Sliders
The "miracle fruit" from Southeast Asia is perfect for subbing into a traditional pulled pork recipe because of its meat-like texture, which also soaks up any flavor you cook it with. This barbecue-style slide gets topped with avocado, pickles, and simple coleslaw for a totally flavorful little sandwich everyone will want to eat in bulk. Find the full recipe on Yummy Mummy Kitchen.
Kung Pao Chickpeas
Protein-packed chickpeas make a perfect chicken substitute in this traditional Chinese dish, and you can make it even lower-carb (if that's your thing) by subbing in cauliflower rice. Find the full recipe on Detoxinista.
Apple Pie Steel Cut Oats
While you're sleeping, let your slow cooker do all the work to simmer this delicious, dairy-free breakfast for you that boasts chopped dates and coconut sugar for lower glycemic sweetness and cinnamon, ginger, and nutmeg for that classic apple pie flavor. Find the full recipe on The Full Helping.
Portobello Pot Roast
This vegan twist on a classic substitutes the meat with mushrooms, but the savory, garlicky gravy gives the dish that nostalgic flavor you crave from a pot roast. Serve it over pasta, rice, or your favorite grain. Find the full recipe on Gimme Some Oven.
Dirty Chai
Pro tip: Slow cookers can also make a batch of beverages, like this spicy chai. Using the tool for this drink allows the spices and flavors (peppercorns, citrus peel, star anise) to marry into the espresso and non-dairy milk mixture. Perfect for next time you host a group for brunch. Find the full recipe on An Unrefined Vegan.
Parsnip & Split Pea Soup
This soup gets all its creaminess from the slowly simmered peas, so it's the healthier version of the classic you grew up with, and it's packed with plant-based protein. Find the full recipe on Simple Veganista.
Winter Detox Moroccan Sweet Potato Lentil Soup
With anti-inflammatory turmeric and pressed garlic, this velvety soup (which gets its texture by pureeing half the mixture) is a great dish to enjoy after over-indulging in holiday treats. Find the full recipe on Little Spice Jar.