Chantecaille Just Launched Nail Polish & They're The Prettiest Pearly Shades
IMAXTREE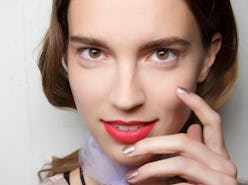 If you're usually one for a standard nail shade that you stick to for months (or even years), there's an incoming trend that just may change your mind — or at the very least, have you second guessing your polish pick at your next manicure appointment. Pearl nail polishes are on the fashion set's radar for the coming season, and if you've never felt strongly about taking a manicure trend for a spin, let Chantecaille's new nail polish convince you that pearly nails are the perfect thing to try.
For Spring 2019, Chantecaille released a new limited edition capsule collection on Jan. 22, inspired by the icy environment of the Arctic. The capsule, dubbed the Polar Ice collection, includes a dazzling eye palette, three creamy lipsticks with a metallic finish, and three pearlescent nail polishes made to mimic the northern sky's Aurora Borealis — and the latter is proof that pearly nail polishes are the manicure trend to get behind ASAP, before it's everywhere this spring.
Possibly the best thing about a pearly manicure, is that it can work for literally anybody's preferred nail aesthetic. Are you a lover of bold, unexpected shades, like green, blue, or purple? Pearl top coats give your bright mani even more dimension. Do you trend towards classic colors like red, or neutral hues like nude and pink? Try adding a pearly finish for a subtle amount of shimmer, or replace your polish altogether and go for a opalescent naked nail look.
Chantecaille's capsule of three different pearly shades is ideal no matter your manicure of choice — each offers a subtle yet statement-making wash of color and celestial-inspired shimmer. That's because each of the three $28 polishes is infused with super-fine pearl to give the pigment an ethereal glow. Take your pick between Polaris, a blueish pearl with a hint of red, Vega, a golden-green, or Nova, a rosy pink pearl. Used as a topcoat, they give basic opaque polishes a mesmerizing depth. Worn alone, nails will have a luminous, almost holographic appearance.
And if you've been trying to clean up your nail routine, you'll be glad to know that Chantecaille's shades are eight-free. That means they don't include formaldehyde and a host of other commonly-used polish ingredients that are now considered less-than good for you. Plus, the formula is vegan and cruelty-free, so your chic mani won't be harming anyone else, either.
Feeling swayed by the pretty nail trend that's starting to gain momentum? Shop Chantecaille's limited-edition polishes below, and head to the brand's site for more from its Spring 2019 collection.