7 February 2019 Nail Trends That Have Nothing To Do With Valentine's Day
Imaxtree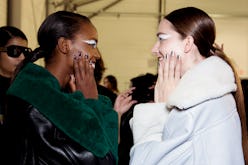 January is barely over, and already it seems the world has fully shifted into Valentine's Day mode. Sure, the teddy bears and tempting heart-shaped boxes of chocolate capping the aisles of Target are sweet… but sometimes, you're just not in the mood for sweet. If you're feeling more rebellious than romantic this month, check out these seven February 2019 nail trends — none of which have anything to do with Valentine's Day — for a manicure that's more cutting-edge than cutesy.
"Nails are all about self-expression and mood," Sarah Gibson Tuttle, the founder and CEO of mani empire Olive & June, tells The Zoe Report. "We're living in a fierce time and it's showing through our beauty routines." Nail artists across the country echo this sentiment. "I think the red and pinks that we usually see at Valentine's Day have definitely shifted this year," Rita Pinto, the founder of Miami-based salon Vanity Projects, tells TZR. In their place? Strong, chic, fashion-forward nail art — aka, the "anti-manicure."
To get in on the trend, skip the to-be-expected soft pastel or Cupid red polish, and opt for something a little more out-of-the-box, like negative space nails or something a bit more geometric. Ahead, seven strong, stylish nail trends to try for February (so you can save the sweetness for chocolate-covered strawberries, instead).
Negative Space
"I like negative space with geometric shapes," Molly Romah, the lead nail technician at NYC's Chillhouse, tells TZR via email. It's lazy-girl approved, too. "Negative space goes a long way: Because of the clear base close to the cuticle, it lasts longer and you can't tell much when it grows out, compared to colors," she says. Sold.
Evil Eye
"Minimal nail art always wins when you're aiming for a strong editorial look," Gibson Tuttle says. "An evil eye on a black mani is a go-to." After applying dark polish, press on a few of Olive & June's All Eyes On You Nail Art Stickers, then add a clear topcoat. "You can wear them all week or add them on the day of a party or date night to up your mani game," the founder says.
Geometric
"Geometric layouts make a great nail statement," Kelli M. Coleman, the co-founder of The TEN Nail Bar in Detroit, tells TZR. "The strong lines complement eye-catching colors like red, orange, and pink." For just a touch of holiday spirit, use bright red to create your shapes. "Always a classic, Big Apple Red by OPI is probably one of the most universally flattering shades ever," Coleman says.
Black Hearts
Want a mani as black as your heart? Olive & June has you covered. "Black hearts are one of our favorites," Gibson Tuttle shares. The brand's Hearts Nail Art Stickers make getting the look easy. "We love them on any color polish, especially black on black if you're going for a textured look," she says.
Metallic Black
"When it comes to our nails, modern women are rocking a look that represents who we are, not who we think you want us to be," Amber Peraino of Austin's Lacquer salon says in an email to The Zoe Report. "For something subtle but powerful, a clean black polish with a hint of metallic is super sexy." NARS Nail Polish in Night Breed features a black base with a touch of silver sparkle, and Givenchy Nail Polish in Noir Satin has a reflective finish.
Flames
This lacquer look is literal flame emojis. "I have seen SO many flames manicures," Pinto reveals of her favorite anti-manicure trend. "It is graphic and strong and makes you feel empowered." She admits it's "complicated to create," though, so this hot polish choice is best left to the professionals.
Animal Print
"We are loving negative space manicures with an animal print," Peraino tells TZR. Apparently, the look is simpler to pull off on your own than you might think; the founder suggests using the tip of a bobby pin to create an easy pattern at home — because nothing screams fierce like leopard print, right? As Peraino says,"We are women, hear us roar."