10 Eco-Chic Nail Polish Brands To Try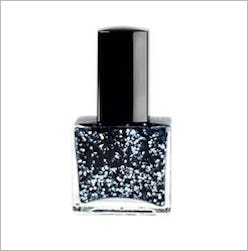 Now that a fresh mani has become an essential everyday accessory, we're never without the perfect polish job. Thinking of making eco-beauty your beat? No problem. We've found ten natural nail brands that are making green the new black—and picked the perfect shades to get fall started.
RGB Cosmetics
RGB's five-free formula (No Formaldehyde, No Toluene, No DBP, No Formaldehyde Resin, No Camphor ) comes in on-trend shades that are chip-resistant and high-shine.
Butter London
With designer friends like Erdem, Altuzarra and Rachel Roy, Butter London's carcinogen-free polishes are a favorite of fashionistas.
Julep
The brand's rectangular bottles keep the toxin-free polish fresh and monthly membership brings fresh new colors right to your doorstep.
SpaRitual Nails
SpaRitual's reusable glass bottle comes with a patented no-slip rubber cap and they don't test their 5-free formulations on animals.
PritiNYC
With over 100 shades on offer, this 5-free and vegan brand supports organic farmers in their mission to decrease chemical poisoning.
Karma Organic
This non-yellowing formula is safe for allergy sufferers and pregnant women, plus the packaging is 100% recyclable.
Jin Soon
Celeb manicurist Jin Soon Choi debuted her namesake 5-free line to rave reviews in 2012, full of on-trend shades that are formulated with long-lasting polymers.
TenOverTen
With a pristine salon space to match, this polish range's 5-free formula is void of harmful ingredients and coats nail to a lustrous finish.
NCLA
Considered couture for your nails, this 5-free range comes in colors that touch on the latest trends. Our tip: Check out their insane nail wraps too!
Zoya
These natural-based products revolutionized the nail industry. Their 300+ totally safe shades promise something for everyone.