Boy Smells' New Holiday Candle Collection Is The Limited-Edition Gift Your Friends Will Love
Courtesy of Boy Smells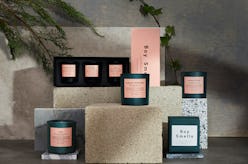 Everybody knows that the best, most impactful gifts come in small packages. That's especially true as far as candles are concerned, considering they have the power to transform an entire space not just aromatically, but visually as well. So yes, there's a good reason they're an incredibly popular present no matter the occasion — but especially so during the holidays, when a freshly lit candle creates a cozy home. And Boy Smells' new Holiday 2019 candles more than fit the bill with warm, woodsy notes and ultra-chic packaging you won't want to miss out on gifting (and receiving) this season.
You know Boy Smells' candles for their incredibly cool fragrance combinations and very aesthetically pleasing packaging (the brand consistently strives to create a multi-sensory experience that coordinates glass and wax colors with the creative aromas). With such a unique perspective, it's no surprise that modern candle collection has earned a spot on shelves and tables all over.
Naturally, the brand wouldn't miss out on a chance to turn out some extra cozy candles for the holiday season, so it's serving up a limited-edition collection that's just as stylish as you'd expect. And at under $50 each, the limited-edition candles and votive sets are a no-brainer not just for sprucing up your home ahead of holiday entertaining, but as hostess gifts or perfect presents for friends and family.
The three-candle holiday crew introduces a completely new scent, Hinoki Fantôme, which combines hinoki wood, resin, cardamom, jasmine, moss, and guaiac wood for a dark, moody aroma that's ideal for cuddling up with on cold nights. Bestsellers Ash and Cedar Stack, equally smoky, woodsy scents from Boy Smells' core collection, join the fresh fragrance to round out the festive drop.
Inspired by the sultry scents, Boy Smells founders Matthew Herman and David Kien dreamt up a limited-edition dark green-black glass jar and smoky toned wax to dress up all three full-size candles, $34, for the season. The result is playfully brooding, and the perfect stylish complement to more glitzy holiday decor.
If you simply can't pick one — or want to gift a friend or party host with all three — the holiday collection also includes a trio box set in three-ounce black votive jars for an updated take on Boy Smells' telltale pink packaging. The $48 gift box is embossed with a cheeky message, "What's Life Without A Little Variety", and is frankly chic enough to give without wrapping. How's that for effortless holiday gifting?
Shop the whole Boy Smells holiday range for the stylish candle lovers in your life, below.