The Perfect Bubble Bath, According To "Bathfluencers"
@kourtneykardash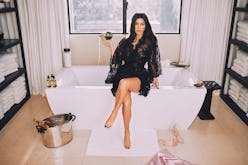 The New York Times recently declared this the "Age of Bathfluence," and I can't say I disagree. Influencer Christina Grasso of @thepouf regularly Instagrams from the depths of a stand-alone tub. Kourtney Kardashian swears she reads Jane Austen in hers. Mama Medicine (AKA healer Deborah Hanekamp) creates "bath recipes" for devotees. Not since Roman times has indulging in a bathing ritual been quite so trendy — but in 2019, the best bubble bath products offer more than just bubbles, and go far beyond bathing. They're ancient floral soaks with aromatherapy benefits, seaweed-encapsulated oils that soften skin, and cannabidiol-infused bath bombs to take the edge off.
As for the best way to enjoy a bath? That, thankfully, remains simple and straightforward: in the glow of candlelight. (And OK, maybe with a glass of wine perched on the edge of the tub, too.) A flickering candle not only offers a respite for tired, blue-light-fried eyes, it also helps you sink deep into a state of relaxation. "Our sense of smell is actually one of our most powerful senses we have," Christine Campbell, a member of Free People's Beauty + Wellness Product Development team — which recently formulated a divine line of in-house candles — tells The Zoe Report. "A scented candle can have a mood-boosting effect in mere seconds, and the glow a lit candle gives off can also create a cozy and calm ambience."
Ahead, discover the 11 best bubble bath and candle pairings to take your self-care Sunday into the Age of Bathfluence.
Pursoma Digital Detox Bath + Sandoval Spirit Aromatic Candle
Need to unplug? Pour a sachet of Pursoma Digital Detox Bath into hot water and soak. According to the product listing, the French green clay inside "attracts radiation and pulls it from the body" while sea salt detoxifies. Lean into the tech-free vibe with Sandoval's Spirit Aromatic Candle. "The powdery freshness of the amber essential oil and the fresh scent of fir needle calm and compliment the bath experience," Michael Carbaugh, the founder of Sandoval, tells TZR. "Fir needle essential oil harkens those forest-y outdoor vibes, bringing the outside in — who doesn't want to take a bubble bath in the woods?"
Fur Nourishing & Calming Bath Drops + Leland Francis No. 79 Candle
Fur's recently-launched Nourishing & Calming Bath Drops are filled with the brand's signature blend of skin-softening oils, encased in biodegradable seaweed, and designed to burst in hot water. Pair the clean ingredients with a clean, soy wax candle from Leland Francis. "I think the No. 79 is the perfect candle for a bath," founder Dillon Pena tells The Zoe Report. "It has notes that are warm and relaxing, as well as palo santo, which helps clear the energy."
Dr. Singha Mustard Bath + Free People Eucalyptus + Siberian Pine Candle
Dr. Singha's Mustard Bath has long been considered an "alternative" remedy for the common cold. So if you're feeling under-the-weather, this is your best bet. Ignite Free People's Eucalyptus + Siberian Pine Candle while you're at it — eucalyptus is known for relieving congestion and opening up the chest. "Eucalyptus is that feeling of walking into your favorite spa, while pine is refreshing and crisp," Campbell tells TZR.
Kush Queen Black Magic CBD Bath Bomb + Boy Smells Kush Candle Pink
Give into the CBD craze with Kush Queen's Black Magic CBD Bath Bomb, infused with inflammation-taming CBD alongside relaxing lavender and chamomile. Why not light up Boy Smells Kush Candle while you're at it? It gives off the green, earthy scent of cannabis flowers for a full-sensory experience.
natureofthings Restorative Floral Bath + Le Harvest Hanna Candle
Natural beauty brand natureofthings believes health is "the synchronicity of body, mind, and the natural world" — which is exactly what it delivers with its Restorative Floral Bath. Jasmine, vetiver, and sandalwood bring aromatherapy benefits ("Vetiver can increase libido, sensuality, and sexual desire," Carbaugh says); shea butter and green tea soften the skin; and quartz extract provides metaphysical "energy-clearing" power. Since the soak is so fragrant on its own, opt for an aesthetic but scentless candle, like Le Harvest's beeswax Hanna Candle.
Bathing Culture Dipsea Soak + Made By Yoke High Desert California Candle
Recreate the effect of a natural hot spring in your man-made clawfoot with Bathing Culture's Dipsea Soak, inspired by the "mineral-rich hot springs that line California's fault line," as the brand explains on its site. Double down on the California feel by lighting Made By Yoke's California Candle. As its mix of lemon peel and jasmine hits, you'll wonder: Am I in the high desert?
Nécessaire Body Wash + Diptyque Baies Candle
If you're doing it for the feel-good factor and the 'gram, opt for a pair of influencer favorites: Suds up with Nécessaire Body Wash (which doubles as a bubble bath) and fire up the iconic Diptyque Baies candle — and consider yourself officially "bathfluenced."