This Insta-Favorite Candle Brand Is About To Drop Its Dreamiest New Collection Yet
Courtesy of Boy Smells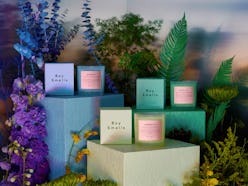 Most of the time — and especially when it comes to your home — it's the little things that make the largest impact. Whether it's artwork to fill your walls or a throw pillow for your space, all of those bits and pieces can come together to create an environment unique to you. Sometimes, all it takes is the right candle to turn your home into another world, and the Boy Smells Chromesthesia collection will do exactly that.
To put it simply, the latest launch from Boy Smells is not just good — it's other-worldly. Launching May 1 on BoySmells.com, the collection — which features three new scents for $34 each — is inspired by chromesthesia, a form of synesthesia typically associated with music. According to a Psychological Bulletin article Noisey cited in December 2013, this is a particular type of synesthesia in which automatic and involuntary experiences of color happen based on heard sounds. To reflect the idea of this behavior, the brand's latest candles come in sleek pastel-hued glasses with a coconut and beeswax blend to match. So, not only will this collection help you create an ethereal atmosphere, it'll look good doing it, too.
This season, look ahead to warm summer nights with the citrus-scented Anjelica candle. Available in a mint green tumbler, this candle features scent notes such as Sicilian lemon, bitter orange, angelica seed, and jasmine. When you have a blend like that, you can instantly enjoy the scent of the season from the comfort of your home.
If you prefer something that has an earthier smell, Dynasty is for you. This scent contains a rich blend of rhubarb, woods, cyclamen, pink peppercorn, and tulip inside a denim-blue glass that'll keep your space feeling fresh throughout the season. For those who want a floral scent for spring, Ambrosia is all you need. Boy Smells has virtually captured the essence of afternoons spent outdoors with this combination of mandarin peel, rosemary, galbanum, iris, hinoki, and vanilla.
On Boy Smells' About page, the company states that its products are designed to "elevate your intimate world." With the Chromesthesia collection, the brand's newest candles aim to give you a multi-sensory experience through scent and sight. Without a doubt, you'll be living inside a fantasy as soon as you let the scents of these candles fill the room.
If you're on board, be sure to head over to Boy Smells on May 1 to get your hands on these candles. You certainly won't regret it.