Bed Head's New Styling Tool Is The Ultimate Multitasker (& It's Only $30)
Bed Head Styling/Instagram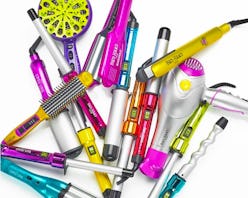 It's a weekday morning. You're fresh out of the shower and scrambling to get ready for work. You fly through your makeup routine thanks to your handy five-minute face, but when you pull open your hair drawer you're met with a jumble of tools and tangled wires. So much for effortless tresses, right? If you'd prefer a more streamlined approach, Bed Head's new Manipulator Ionic Air Kit presents a solution thanks to two interchangeable styling heads which create multiple looks with a single tool. And at a very palatable $30, it's an upgrade that won't undo your end-of-year budget.
These days, multitasking beauty products are more popular than ever. And with good reason, considering hectic lives and demanding schedules leave little time dedicated to primping, yet you've still got to look polished and put-together when leaving the house. That's why multi-function hair tools like Dyson's Airwrap styler (which sold out swiftly upon launch and took several months to restock) have earned such high praise — despite the fact that the aforementioned high-tech styling system will set you back anywhere from $499.99 to $550. The price you pay for convenience and really good hair, right?
Well, thanks to Bed Head's latest launch, that price just dropped a whole lot lower. The hair care line's new Manipulator Ionic Air Kit, $29.99 and now available on Ulta's website, offers up a similarly versatile styling tool that'll streamline your hair kit. It's a single hot air brush kit that comes with two interchangeable head attachments, that allow you to switch up your style in a snap.
The dual styler includes one 1.5-inch thermal round brush that creates loose, effortless waves for a lived-in, beachy look, and a 1-inch porcupine brush that'll produce defined curls for a voluminous, glamorous vibe. The hot tool also offers multiple heat and speed settings, so you can control the heat exposure and maintain an ideal styling experience for your hair. Plus, Ionic technology seals strands for a smooth, shiny mane.
The tool quickly transforms blow-dried or air-dried hair — just section off strands and run the wand through each to develop bouncy body and volume. Or, use the round brush head on damp hair to craft a sleek, smooth look. Whatever your method, the good news is you can toss all those extra tools and brushes.
Snag Bed Head's affordable multi-tasker from Ulta, below.