This Dyson Styling Product Has Been Sold Out For Months — & It's Finally Back In Stock
Shutterstock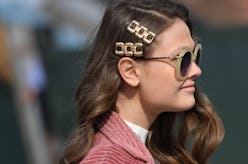 Although there is no hard quantitative data, it's probably a safe bet to say that absolutely no one was surprised when Dyson's Airwrap styler sold out after it launched back in Oct. of 2018. The cutting-edge tool — which curls, waves, and straightens hair by harnessing an intense airflow — felt like the next generation of hair care (and the 113,000 people who signed up for the styler's wait list on Dyson's website probably agree). While the wait since Oct. may've felt long, the news fans were waiting for finally arrived on July 22: the Dyson Airwrap is back in stock.
As you may already know, Dyson's inventive damage-reducing technology does come with a price. Currently, the only model left in stock online is the Dyson Airwrap styler Complete system — which will set you back a cool $549.99. (Both the Dyson Airwrap styler Volume+Shape and the Dyson Airwrap styler Smooth+Control, which retail for $499.99 apiece, are out of stock.) That extra $50 does let shoppers get the most out of the Airwrap as a tool, though: The complete system includes one pre-styling dryer attachment, two 1.2-inch barrels, two 1.6-inch barrels, and three unique brush heads specifically created to minimize frizz and build volume.
New to the world of Dyson hair care, and wondering how on earth you can curl your hair by using air? The Airwrap styler uses what's known as the Coanda effect, powered by the Dyson V9 digital motor — which allows the hair to cling close to the tool as it quickly sets a curl into place. Extreme heat is taken out of the equation, too; Dyson notes online that the Airwrap technology stays below 302 degrees, whereas traditional curling wands can easily pass the 400-degree mark. (You can also peep the Airwrap styler demonstration video on Dyson's official Instagram if you're having trouble visualizing just how the tool works.)
Ready to embrace Dyson's futuristic styling tool? You can still snag the Dyson Airwrap styler Complete on Dyson's website, or at Dyson Demo stores and select other retailers. Or, keep on scrolling down to shop Dyson's Airwrap styler — while there are still any tools left in stock.