Dyson's Luxe Supersonic Hair Dryer Just Became Even More Accessible
Shutterstock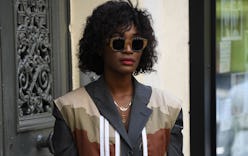 Unless you've fully embraced the air-drying movement, you've probably seriously contemplated picking up Dyson's Supersonic hair dryer (and may have it sitting in your shopping cart on Sephora's website right now). Though you may think of it as the Rolls-Royce of blow dryers, the $399 styling tool is more of a Tesla: It's sleek, powerful, and wields cutting-edge science beneath its cool exterior. And now, thanks to Dyson's new Supersonic attachments, the tool is finally accessible to more beauty fans than ever before. Launched July 1 on Dyson's website, the brand revealed two new $39.99 attachments specifically created for textured hair and sensitive scalps.
This may be music to your ears, too. Dyson's Wide-Tooth Comb Attachment was crafted to shape and volumize coily or curly hair — all while a flexible torsion bar allows the teeth to detangle as needed. "I was skeptical at first and was like, whatever. Then when I used it on models backstage and on one of my celeb clients, Solange, I was amazed," Jawara Wauchope, Global Styling Ambassador, told TZR at a press event for the launch. The hairstylist and Dazed Beauty contributing beauty editor also noted that the comb attachment keeps the integrity of your hair intact, adding that users should start from the root when using it.
On the other hand, the Gentle Air Attachment softens the Supersonic's airflow — allowing anyone with fine, colored, or heat-averse hair to gently dry their tresses. "A lot of people with natural hair, you don't want to put a lot of heat to it but don't have time to let it fully dry," Jawara adds. "[It's the] answer to a quick twist-out [Ed. note: a common protective style], as opposed to waiting overnight or sitting under a hooded dryer. It's for the girl who went to sleep and forgot to do her hair last night. Now you can do five or six twists with the gentle dryer and [get that definition]. We've never been able to do things in that time and get that result."
Make no mistake, though: The Gentle Air Attachment is still different than Dyson's Diffuser attachment, which has already been on the market. Jawara pointed out that the diffuser sets curls, while the Gentle Air Attachment sets the root of your hair; you can use both together by diffusing your ends and using the Gentle Air attachment just to dry your roots. "The attachment is good for people who want to get a little water out," Jawara adds.
While the Gentle Air Attachment has already sold out online, you'll still be able to pick it up in-store at Dyson's brick-and-mortar locations. The Wide-Tooth Comb Attachment is currently available in stores and online, though — so make sure you scroll down to get yours while you still can.