The #1 Beauty Trend Of 2009 Is One You're Probably Wearing Right Now
Fairchild Archive/Penske Media/Shutterstock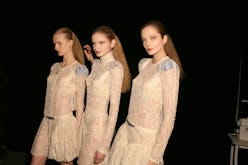 "You're going to regret this one day," my mom would tell as I'd aggressively pluck away my brows before middle school. And as all moms seem to be, she was right. I didn't care: Being a typical preteen, I strived to fit in. My thick, full brows were my biggest insecurity growing up, and made me the girl who stood out when Christina Aguilera-level-thin brows were the craze. And looking back at the beauty trends during that time — more specifically, the beauty trends during fashion week in 2009 — I was right on trend. The nonexistent, skinny arch of the '00s were still going strong. Makeup artists sent models down the runway with bleached and pencil-thin brows, proving the look was still what the beauty world was craving.
Fast forward years later when bushy, caterpillar-like brows took over, I looked back and wish I'd listened to my mother. Just like fashion trends that reemerge over time (think: seashell anklets, chic flip-flops, and velvet scrunchies), beauty is cyclical, too. But when these looks return, it's in a new, fresh way. "It's never a complete repeat. The people doing it this time around will be doing it in a different way," Guido Palau, hairstylist and Global Creative Director for Redken, tells TZR.
The British-born hair expert has an extensive, wildly impressive portfolio — Palau has contributed to luxury labels including Prada, Marc Jacobs, and Proenza Schouler, to name a few. Not to mention he's worked alongside world-famous makeup artist Pat McGrath throughout his career to create some jaw-dropping looks, so it's safe to say Palau has racked up some knowledge about the overall beauty industry. "10 years ago, we saw beauty in another way — it was grunge in the '90s. Today it's all about exclusivity," he notes.
As for other beauty looks that dominated 2009, ahead, take a look back into 10 shows during fashion month that deserve your full attention.