This Tiny Detail Will Elevate Any Outfit In 5 Seconds
Cornel Cristian Petrus/Shutterstock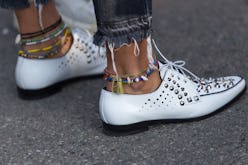 The trend every California-obsessed fashionista rocked throughout the '90s now goes by a few different names. Some call them ankle chains, while others prefer ankle bracelets. But if you styled your way through the decade, you only know the jewelry piece by one name: anklets. And if you've been asking yourself if anklets are in style in 2019 — you probably already know your answer. Like basically every other gigantic trend from the '90s, anklets have come back in full force, in all their puka shell-adorned glory.
Trend-watchers will know that anklets have been making a tentative comeback for years. When it comes to '90s accessories, they're right up there with chokers and hair clips — and you could even say that they were more popular than both, since (as you undoubtedly remember) the anklet trend lasted well into the early 2000s. Which might have made it that much harder to bring back now; not as much time has passed since the entire fashion community was obsessed with surfer style, whether you lived on the beach or were in the middle of the midwest.
However, it seems like the stars have finally aligned for everyone's favorite foot-focused jewelry trend, and it's potentially because of just how unexpected an anklet is in 2019. The jewelry piece isn't strictly bohemian anymore, either — the street style crowd has tapped the accessory, wearing it with higher-end pieces like fur coats, loafers, and heels. Pairing a chunky seashell anklet (like Mango's $25.99 version) with heels adds depth to your outfit, while layering an over-the-top beaded anklet (like Rosantica's $235 "Fred") on top of sneakers elevates an otherwise casual look. It only takes 5 seconds, and lets you customize your aesthetic so much more.
Your '90s heart may not believe how luxe Rosantica's take on an anklet is, too. Know that it's only the tip of the iceberg. Elevated anklets are a part of the trend's resurgence — and that means solid gold and gemstones are aplenty. No one could have predicted a piece like ILA's Deborah Emerald and 14k Yellow Gold Anklet — available for pre-order at Saks Fifth Avenue for $355 — back in the day, and that's what makes it such an unexpectedly special find.
One thing is still the same about anklets, though: they have a funny way of letting your personality shine through. Ahead, 11 anklets to choose from (though no one could blame you if you choose to layer on them all).