How To Wear A Scrunchie in 2018, Because Yes, It's Still A Thing
Victor VIRGILE / Getty Images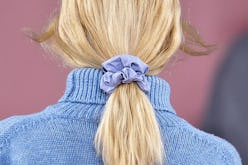 If you're a '90s baby, then you've been wearing scrunchies since the days of Rugrats and Lunchables. The hair accessory was once the most prominent staple when it came to styling hair, front and center on school picture day. Today, the hair accessory is back in full effect, from the fashion week runways at shows (like Mansur Gavriel Spring/Summer 2017) and on your favorite celebrities and influencers. If they're not affixed to a topknot or high ponytail, then they're stacked on wrists, just like a bracelet. Though the trend might seem regressive, there are so many new ways to wear a scrunchie without looking like a Clarissa Explains It All extra.
"The options for the scrunchie are as limitless as your imagination," says Jillian Halouska, a New York City-based celebrity hairstylist. "You can use it classically by securing it for top knots, pigtails or high ponytails. Or, you can re-purpose the accessory by cutting it, braiding it into the hair, wrapping it around sections of ponytails or tie into a bow or knot."
Whether your hair is short, long, curly, straight or coily, there is no limit when finding new styles to try. Not only have the most familiar styles been upgraded, but the actual tool has a very millennial facelift, too. Now, you can find them in bold and metallic colorways, made with leather, or in velvet. "I think that because scrunchies have gotten cuter with patterns and designs, it just makes them more wearable and updated," Stephanie Brown, master colorist at Eddie Arthur Salon in New York City says.
Another benefit? They're easier on your strands, compared to those elastics that tend to snag and break. "They're soft on the hair," Brown notes. "They don't pull as much or get tangled and cause way less damage." In other words, they're all that and a bag of chips... and there are seven radical ways to style them, ahead.
Buns
Instead of just throwing your hair in a messy bun (as seen at the Stolen Girlfriends Club fashion show during New Zealand Fashion Week 2018), take a velvet tie and secure it, leaving some wavy strands to hang down. "Use a soft boar bristle flat brush and your fingers to help smooth and place the hair the way and where you want it," Brown says.
If you have shorter hair, be sure to secure your baby hairs and flyaways with the help of small bobby pins or an edge control product.
High Ponytails
A model wore a slime green scrunchie with eyeshadow to match at Johannesburg Fashion Week in Oct. 2018.
What's better than one elastic? Two, as proven by the models at the Icy Pink Adidas Falcon Launch in London, England in Sept. 2018.
Hailey Baldwin (or, errr... Bieber) added pizzazz to her pantsuit with a touch of blue velvet at a New York City press appearance in April 2018.
Low Ponytails
A low ponytail (like this one from Mansur Gavriel Spring/Summer 2018) can be dressed up without pulling it "up." Use a texturing spray to give your hair more animation and volume.
A few face-framing tendrils always adds a bit of softness and easy glamour to a down-do, as spotted in Aug. 2018.