This '80s Hair Trend Just Made A Huge Fashion Week Comeback
Mansur Gavriel.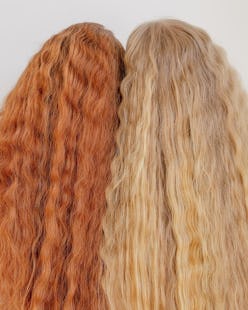 Perhaps the last time you used your crimping iron was when Ronald Reagan was in office, or when you used Pump It Up — everyone's favorite freeze spray in the '90s — to secure your style. Personally, that's why I was surprised to see that the crimped hair trend is back in full effect according to top hairstylists behind the scenes at New York Fashion Week Fall/Winter 2019.
Sure, loose, bendy, easy waves are always going to be in style, but pros like Laurent Philippon, for Bumble and bumble, and Rodney Cutler, for Cutler Salon/Redken, found a way to add a bit more structure to those relaxed silhouettes — and the tips are so, so easy.
At Mansur Gavriel on Feb. 10, Philippon didn't necessarily adhere to a reference — he tells TZR that the designers showed him a photo of long and wavy "virgin hair." But more and more, "the Mansur Gavriel woman is becoming sharper every season," he notes. "It's really about finding her own aesthetic. We're always thinking about who this woman is, and redefining her. It's not really trendy or referenced so much."
That individuality shined through in the beauty look, as Philippon and his team gave each girl a unique curl pattern. "We took every section and drew a part in the center, using Thickening Spray because it helps draw a really clean part," he notes. "We didn't forget any baby hair. Then, we took the three barrel iron, and with every section, we used it in [different ways]. We don't want it to look like all lines. We want to break it up."
After the hair was curled, Philippon brushed each section out for a light and airy finish. Some models had their hair pulled back, secured with everyone's favorite hair accessory: the scrunchie. "It seems to be something that will always be here," he says. As for the technique, Philippon notes that it's a "very easy" style to do at home, especially because it's one that's meant to be imperfect. "If you [mess] it up, it won't show," he assures me.
And at PH5 on Feb. 7, Cutler took the show's Alice in Wonderland inspiration and added elements of the seventies in. "We blew in the Cutler Volumizing Spray and used the old crimpers from the early days of life," he jokes. He curled small sections from root to tip, then brushed the hair out all the way, finishing with Redken Triple Take 32 for frizz prevention. Most of the models wore fake bangs, styled with a "veil-y kind of feel, for mystique," he notes. As for shine spray — there was none. The goal was for a "more matte finish," he says, so that the hair would finish airy without getting too flaky. And the air's natural humidity also played a part in the finished look, too. "We want it to come out a little bit, with a triangular shape," he notes. "We brushed the hair up wherever you see ridges."
Ahead, shop some of the hero products to get your own runway waves.