Home Game: World Market's Wall Art Game Is On Point, And These Pieces Prove It
@worldmarket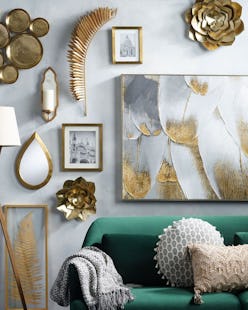 When it comes to home decor, dressing up one's walls can be an overwhelming endeavor. For many, the thought of curating a masterpiece from a blank canvas is so intimidating that they often just slap some color on it and call it a day. However, accent walls and decor strategy can come in many forms, and creating a gallery of sorts with unique and one-of-a-kind pieces can be a stylish (and surprisingly affordable) route to take. But if the idea of scavenging every local flea market and decor store exhausts you, look no further than the wall decor offerings at World Market.
The now-iconic retailer, known for its extraordinary globally sourced items at super affordable prices is a veritable buffet of eccentric, colorful, and fun home goods. And while its furniture and entertaining essentials are definitely worth a gander, the store's wall art selection is filled with hidden treasures that will give your space a chic and unique touch.
The beauty of these pieces is that World Market's selections are always changing, so anything you snatch up will most likely not be seen on the walls of too many. And with pieces sourced from all over the world — Bali, Portugal, Mexico, you name it — it feels like you're shopping at an exotic global bazaar, even if you're just a few miles from home.
And, to be clear, you don't have to have a specific boho-esque aesthetic to find a great wall accessory at World Market. The retailer carries a variety of pieces that range from minimalist-friendly gold-framed mirrors to vintage-inspired, rustic wall clocks. So, there's a little bit of something for everyone.
Another thing to note is that wall art can be overwhelming in that one often doesn't know where to start or how to curate one that looks cohesive and complementary to the rest of your space. If you're in this boat, try starting small, with a cool piece or two that catches your eye — maybe an interesting wooden set of wall shelves or a colorful painting — and go from there. Slowly, start to add on items that work nicely with your existing starter piece or pieces. And if you're one for more structure and strategy, a stunning (and symmetrical) gallery wall could be up your alley, and surprisingly easy to assemble on a lazy Saturday afternoon.
Either way you decide to go is safe in that the wall decor finds at World Market are so affordable, you won't feel like you're making a lifetime investment. You can change things up at any point without a stitch of buyer's remorse or guilt (yes, please). Another bonus is that the brand has special discounts and deals on the daily, so the chances of your favorite pieces being on sale are decent.
Ready to give this whole wall art notion a whirl? Why don't you start with the most lived-in room in your home: your living room. Check out these 10 stunning finds from World Market that won't cost you more than $100, but will make your space feel like a magical oasis.