Marie Kondo Now Has An Online Shop And You Can Get Everyone's Holiday Gifts There
KonMari Media Inc.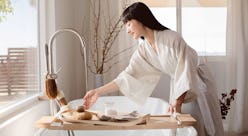 She's made you rethink the way you fold your clothes, how you decide what's worth keeping and what needs to be tossed for good (creating her own phrase "sparks joy" in the process), and otherwise proved — through her best-selling books and hit Netflix show — the profound power of tidying up. And now the organizational expert has given the world another reason to love her: Marie Kondo's new online shop is chock full of the kind of lifestyle products that will make you feel like you're living your best life — plus it's a great place to do all your holiday gift shopping.
In a move that begs the question "How did this not exist sooner?" the brand just unveiled its highly curated marketplace, The Shop at KonMari, which includes beloved brands such as Hawkins New York, Building Block, and Bellocq. And besides offering the kind of tidying products you'd expect to find here (boxes and trays for stashing desk essentials, clear jars for dry pantry goods, etc) the online shop is also stocked with gift ideas to suit culinary enthusiasts (matcha whisks, Japanese donabes), those who love to upgrade their home decor (candles, ceramic bud vases), anyone who takes pride in their entertaining skills (linen textiles for the table, brass serving utensils), and even wellness lovers (goods for a detoxifying bath, tuning forks with crystals).
And while the site specifically caters to those who are already fans of Kondo's methods and share her eye for minimalism, there are also plenty of items that would be coveted by anyone who's not yet familiar with her practices — and that includes her celebrated books if you want to give them an introduction. That said, if you're still in the midst of your gift purchasing, there are a few standouts that will help you tear through your list this year. Ahead, find eight of the shop's most gift-worthy goods that will surely spark joy — from a green tea that makes a luxurious hostess gift to leather slippers that make staying in look chic.