This $4 Bath Soak Makes A Perfect Gift For Wellness Lovers
Alliance Images/Shutterstock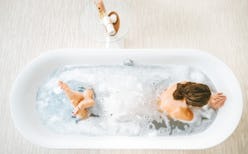 She's the woman in your life who's seemingly always heading to (or coming out of) a yoga session, who has a natural remedy for practically anything that ails you, and whose idea of self-care often includes a variety of essential oils. She's your wellness-minded friend or loved one and often times it can be tough to find something to give her that speaks to her mindful, health-focused interests — but that she doesn't already have. Or maybe this year you're shopping for someone who's just dipping their toe into the holistic world and is looking for new ways to feel better inside and out. In either case, there are a ton of stylish, unique wellness gifts that won't just have novices reveling in a new routine, but can also impress your well-versed friends.
The category of wellness is broad, and that can totally work in your favor this year. For example, if she's recently moved or has been revamping her space, there are actually home decor items that can make her place feel more peaceful and conducive to productivity (think chic oil diffusers or meditation pillows).
If your gift recipient is into hitting the gym — whether yoga or something more high intensity is her preference — a luxurious CBD balm can help soothe sore muscles. And this star ingredient isn't the only buzzworthy one to look out for in wellness-themed gifts. Adaptogens are said to help out with ailments from stress to slugishness, and there are so many ways to try them that are as simple as stirring into a class of water or nut milk for a super-powered beverage.
There are also wearable wellness products, journals to help her keep track of her intentions, and bath goods to totally make her feel like her best self. Ready to cross some people off your list? See ahead for 10 great wellness gifts to give this year — whether you're shopping for newbies or aficionados.
This CBD company was founded by two former pro-athletes, so your fitness-loving friends can probably make great use of these products, which include a soothing post-workout salve, oil, and a six-pack of protein bars. Let her try them all with Beam's combo pack.
She can set intentions and goals and keep track of her progress with this wellness journal that's also full of tips on nutrition and exercise.
Wellness hub The NOW isn't just great for affordable massages that you can squeeze into your lunch break (That said, a gift certificate here would be a fantastic gift on its own.), they also offer a ton of gift options online for those who aren't in close enough proximity to book a service. Case in point, this copper body brush that increases circulation and body detoxification. Pair with a luxurious body oil and you've got the perfect gift combo.
These aren't your average smudge sticks. She can clear negative energy out of any space by burning one of these beautiful, fragrant bundles.
Just looking for something small to stick into a stocking or holiday card? For just $4, these quartz-charged bath salts will let her have a totally rejuvenating bath experience.
Exercise doesn't get any chicer than with these marble dumbbells that double as decor. They're a little extra, but perhaps so is she?
The well-known adaptogen brand's latest product will benefit her outsides as well as her insides. With collagen, vitamins, and other superfoods to boot, this tart berry mix helps retain moisture, strengthens hair and nails, will give her a glow from within.
The best-selling air filter brand just made a mini that's perfect for small spaces (like offices or nurseries) as well as traveling. It will purify air in a space up to 250 square feet while looking chic and unassuming.
Can't decide on an adaptogen? This variety pack of Moon Juice's "Moon Dusts" includes blends for beauty, brain, sex, power, spirit, and sleep so she can try them all.
Give her two gifts in one: A wearable clear quartz and sterling silver necklace and a covert diffuser. By unclasping the pendant and adding a few drops of essential oil, she can take her aromatherapy with her wherever she goes.