9 Trendy Beauty Gifts For Your Friend Who's Always Ahead Of The Crowd
Manner Market / Instagram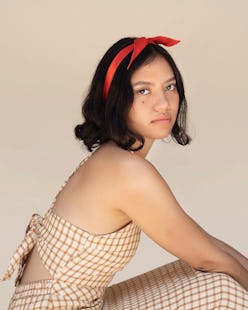 There are probably very few people you actually need a gift guide to buy for — you already know the exact sweater your mom's been eyeing for months and the headphones your significant other has had on their wishlist forever. But if you know a person who somehow stumps you every year — aka that beauty-obsessed friend who owned Glossier Balm Dot Com before everyone else and was the first person you knew to get a shag haircut — then you might actually need a list of trendy beauty gifts to help you with your shopping.
To impress your in-the-know friend, look to trends that haven't hit the mainstream just yet. As the Spring/Summer 2020 runways have predicted, scarves are set to be the next big hair accessory — meaning you should skip that word-emblazoned barrette you've been considering and invest in a silky scarf that can be worn now through to next season. Creative eyeliner was also a runway favorite at the most recent NYFW shows, making Marc Jacobs Beauty's new liquid-gel eyeliner, $27, an easy choice if you're shopping for any makeup enthusiasts.
Not totally sure what their makeup and accessory preferences are? The New Yorker recently declared this the "Age of Bathfluence," so a brand-new bathing product (inspired by an old one) from Fur will give your gift recipient an Instagram-friendly way to indulge in a relaxing pastime without the stress of you trying to figure out their favorite colors.
To really up the ante, throw in Nécessaire's new The Body Serum. It's the latest launch from the cool-girl brand that's bound to follow in the footsteps of Nécessaire's cult-y lotion and become another crowd favorite — and it serves as the perfect way to add moisture post-bath.
Ahead, these and more trendy gifts that will impress even the most discerning beauty lover on your shopping list.