This Hair Accessory Will Be Everywhere In 2020 — But You Should Totally Wear It Now
Fernanda Calfat/Getty Images Entertainment/Getty Images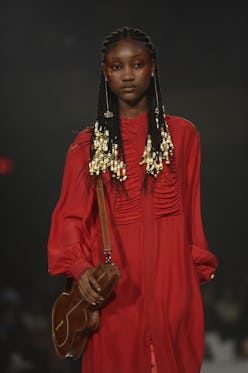 There are certain beauty looks that you come to expect as trends in the spring and summer — especially when it comes to hair. If you're backstage during New York Fashion Week, you're likely going to see a parade of loose, mussed-up braids. There's also the likelihood of beach waves or a sleek hair accessory. This season, however, the New York Fashion Week Spring/Summer 2020 hair trends seemed to take those tried-and-true tropes and turn them right on their heads.
Sure, there were braids. But instead of fuss-free side plaits, you saw slicked-back whip braids with extreme middle parts. There were the occasional soft, silky-looking beach waves, of course, but most stylists went the extreme (and literal) route, opting for wet-hair looks that were more Venice Beach than French Riviera. Now don't worry, the trends you know and love were definitely still represented. They just had some cool-girl updates that delivered a wow-factor, leading to styles you don't want to wait until spring to attempt.
Luckily, you don't have to. Ahead, find the hair look for spring and summer you'll want to start test driving right now.
Creative Cornrows
Seen at: Studio 189, Pyer Moss
Get the look: Natural hair finally got its comeuppance during fashion week, with artists creating actual looks instead of just sending models down the runway with their natural texture. Creative takes on cornrows were the buzz of backstage. At Pyer Moss, the look was inspired by Black rock and roll. Hair lead Jon Reyman, with an assist from Guyanese celebrity hairstylist and barber Nigella Miller, slipped each bead onto models' manes by hand.
At Studio 189, lead hairstylist and Unilever hair expert Ursula Stephen, working with TRESemmé, created cornrows with faux-bangs. She braided the hair from the nape of the neck to the crown before securing each row with rubber bands. She then teased the hair at the ends of each cornrow before spritzing it with some hairspray to complete the look.
Hair Scarves
Seen at: Jonathan Cohen, Maki Oh, Kate Spade, Maryam Nassir Zadeh, Rag & Bone
Get the look: Instagram cool-girls have been wearing silk scarves in their hair all summer, but hairstylists upped the ante this season. Whether they were folded into braids, twisted over the crown of the hair, or just tied around a ponytail, scarves were abundant. "I've always loved playing with fabrics and braids," Bumble and Bumble lead hairstylist Laurent Philippon said backstage at Jonathan Cohen.
At Kate Spade, lead hairstylist James Pecis, working with Oribe, infused lots of volume and texture into the hair before twisting it into a low bun. He then wrapped the scarves around the bun, leaving the ends to hang loose down the back.
Vintage-Inspired Half-Updos
Seen at: Anna Sui, Tory Burch, Veronica Beard
Get the look: Whether it was a take on Gibson Girls of the late 19th century or a Valley of the Dolls reference, the half-updo looks this season seemed ripped straight from the history books. At Anna Sui, lead hairstylist Garren of R+Co created a bohemian version of a Gibson Girl bun on top of the head. He spritzed on R+Co's Balloon Volume Spray to give the bottom half of the hair guts and grit, and then either rolled it up, secured it into a ponytail, or let it fly free.
Veronica Beard took on '60s glam, complete with a beehive half-updo and side swept bangs. Moroccanoil artistic director Kevin Hughes, who keyed the show, actually had an incredible tip for creating the sky-high beehives. "We're crimping the hair at the roots to create lift and then brushing the hair over," he said. "It gives it volume, especially for the girls who have thin or short hair."
Floral Hair Accessories
Seen at: Prabal Gurung, Alice & Olivia
Get the look: Think flower crowns only belong at Coachella? Think again. At Prabal Gurung, lead hairstylist Laurent Philippon, working with Dyson, concocted epic flower crowns for a handful of the models on the runway. It was the perfect complement to the wet, sleek look of the hair. Don't want something that epic? At Alice & Olivia, hairstylist Justine Marjan (for ghd) created gorgeous boho waves with beautiful braid detailing. For extra oomph, she stuck little bits of lavender in the hair — a more subtle take on this flower-filled trend.
Whip Braids
Seen at: Self-Portrait, Bevza, Ulla Johnson, Christian Siriano
Get the look: Instead of the beachy, mussy, frizzy braids we typically see in the warmer months, a sleek, whip-like plait reigned supreme on the Spring/Summer 2020 runways. And truthfully, these slicked-down styles are perfect for the warmer months because of how controlled they are. At Self-Portrait, lead hairstylist Jimmy Paul, working with Bumble and Bumble, created a low plait that was inspired by singer Sade. He used a cocktail of three Bumble and Bumble products to slick down the strands before pulling it into a low ponytail and braiding.
For Christian Siriano's runway show, TRESemmé lead hairstylist Odile Gilbert pulled the braid up into a slightly higher style. She worked the brand's Tres Two Extra Hold Mousse into the roots of the hair before blow drying the models' manes upside down for volume.
Wearable Wet Hair
Seen at: Jordache, Kith, Mark Gong
Get the look: The problem with beach hair? It can have a sticky, tacky feel to it. But this season, the wet, surfer-inspired waves were tousled and touchable, thanks to major product cocktailing. Hairstylist Rodney Cutler, brand ambassador for Redken, mixed the brand's Velvet Gelatine 07 Volumizing Blow Dry Gel spiked with the All Soft Argan-6 Oil backstage at Mark Gong. "We didn't want it to be gummy and sticky, but we wanted it to still have that lived-in texture," he said. "Velvet Gelatin allows the hair to breathe, and doesn't get stiff. It keeps the moisture, along with the argan oil."
Hairstylist Jon Reyman used a similar technique at Jordache, spiking Aveda's Phomollient Styling Foam, and Light Elements Texturizing Cream with the brand's argan oil. The combination of these textures produced hair that looked like the models had just stepped out of the ocean — in the best way possible.