The 9 Trendy Gifts On Every Fashion Girl's Wish List
Masato Onoda/WWD/Shutterstock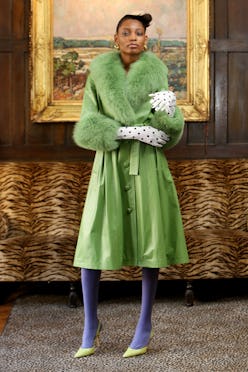 As the end of the year steadily creeps closer, there's a certain sense of rosy nostalgia that rears its head. 2018 is almost over, and with it you'll leave behind the bad and fondly remember the vacations, outfits, and dinners that made it an especially memorable spin around the sun. But, before it all ends, there's one last push — you have to make it through the holidays. The good news is that putting together a wish list (and buying gifts for your fashion-savvy friends) doesn't have to be stressful if you harness your own sense of nostalgia. In fact, the trendy gifts to give in 2018 are the very same items you've had your eye on all year long.
Some of the coolest items you spotted on Instagram (or on your favorite street style stars) this year have the staying power that makes them worthy of keeping around for months —and years—to come. Because yes, trends come and go, but for certain zeitgeist items, there's a holdover that continues to make them must-own pieces for 2019 and beyond. Below, you'll find a selection of those buzzy items from the last year that will be well worth adding to your wish list to close out 2018 on a high note.
This year, Jacquemus' mini bags captured the hearts of fashion insiders in Paris and beyond. Designer Simon Porte Jacquemus has a knack for playfully reimagining classic pieces (like the much-photographed La Bomba hat). But, this teeny bucket bag will continue to hold clout in the new year as colorful and impractically-small bags continue to be runway mainstays.
Miuccia Prada knows how to design a statement piece, and this year it was her flame-emblazoned sandals that become a dream buy for every trendsetter. It's a good sign when a few months after its debut, an item is still constantly selling out, and with these sandals that seems to be the case. So, make sure to get it on your list before they're gone again.
Susan Alexandra's colorful handbags are the type of precious item you'll want to pass down to your own children. Each one is made by hand in NYC so it feels like something crafty and precious (not to mention the fun patterns are guaranteed to make anyone smile). You may have scrolled by them on Instagram before, but they won't be going anywhere.
Animal print continues to be a must-try trend through winter and beyond, and Realisation Par's silk skirt was an impetus for the obsession. But, we haven't hit the saturation point for this skirt just yet. Styled with a pair of tall boots and a jacket it's ideal for winter, and then come spring you can swap in sandals.
We're on the upward swing with the hair clip trend, you may have seen the locks of your favorite bloggers accessorized with a clip or two, but its popularity will only continue to rise in the months ahead. Gucci knows its accessories, so this a piece you'll want to have in your barrette bowl.
The fashion world's obsession with Ganni has only swelled over the past few years. The Copenhagen-based brand knows exactly how to toe the line between trendy and wearable. That's why these cowboy boots have been such a resounding sartorial success. They reference the season's western themes will still feeling polished enough to wear when the John Wayne nostalgia begins to fade.
There's a trend trifecta that exists: if a celebrity, street style star, and blogger are all in the same piece, it's worth taking note. So is the case with Saks Potts' colorful coat. Since the weather will only get chillier in the months to come, now is the time to request a coat that will not only keep you warm, but bring you joy every time you put it on.
Batsheva helped to pioneer the prairie trend, but the latest iteration of her dresses prove that they're no passing trend. The addition of colorful metallics and rich velvet make this modest dress a style that feels seasonally appropriate now, but also a staple party piece to break out down the line.
If you jumped on the shell trend last summer, there's some good news: it isn't going anywhere. With major retailers like Net-a-Porter continuing to invest in the trend, this tropical take on jewelry will be a hit in the coming spring and summer.