How Non-Surgical Facelifts Give All The Results — Without Any Knives Or Needles
Yin Yang Dermatology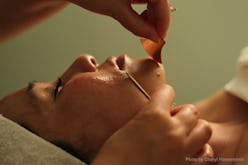 Over the past two months, I developed a bit of a habit: I couldn't stop Googling non-surgical, non-invasive facelifts. Call it a hazard of the job. As a beauty and skincare writer, press releases for new treatments and cutting-edge techniques appear in my inbox constantly, and when I started seeing the same word — "non-invasive" — pop up again and again, I knew I had to take a deeper look.
I've always been curious about plastic surgery. My mom and I even joked about "getting some work done" before my wedding last year — a facelift for her, ear pinning for me — but in the midst of planning a wedding (not to mention working, maintaining a relationship, and just living), who has six weeks free for recovery time?
Which is why the pairing of "non-invasive" and "facelift" piqued my interest. The former implies a quick, painless procedure with little to no recovery time; but the latter implies a major physical shift. It seems too good to be true, too promising not to be tried — and I'm not the only one who's intrigued.
According to a recent study from the American Society of Plastic Surgeons, the popularity of minimally invasive procedures like microdermabrasion, fillers, lasers, and chemical peels has increased nearly 200 percent since the year 2000; and in 2017, the growth of these seemingly lower-risk beauty treatments even outpaced that of surgical procedures.
"It's a good middle ground for someone looking for a refresh with virtually instant results, but who may not want to opt for more invasive measures just yet," Brian Nourian, co-founder of Le Jolie Medi Spa, tells The Zoe Report of the spa's popular FORMA Non-Surgical Facelift. "Since there is minimal if any post-treatment recovery time needed, I think [these treatments] will become more mainstream."
In other words, non-invasive treatments are plastic surgery for the Instagram era. When every moment of your day is on display through Stories, and every highlight lives on your grid, who has the time to check out for weeks — or up to a year, in some cases — of prep, procedure, and recovery? (Unless, of course, you're the type to share everything on social media — in which case, more power to you.)
While the low-downtime, high-return thing sounds great, it's only great if it actually works. I needed to get some hands-on (and needle-free) experience in order to see if the hype was justified.
My first stop was Yin Yang Dermatology in Los Angeles' Pacific Palisades neighborhood for its Harisienne Therapy, an anti-aging facial it describes as "a natural alternative to Botox." Harisienne is a Japanese massage technique designed to stimulate then relax each of the 31 muscles in the face and scalp, in order to subtly lift and firm the skin. It's popular in Japan and Europe, but there are only a handful of trained practitioners here in the U.S., including aesthetician Maria Iorillo of Yin Yang Dermatology and the affiliated Oasis Palisades spa.
When I stop in for my treatment, Iorillo tells me she was drawn to Harisienne because it allowed her to use her hands instead of a machine — and once the facial is underway, I see what she means. Armed with just two small, metal tools about the size of pens (one with a rounded tip for stimulation, and one with a fanned tip for massage) and her fingers, Iorillo spends an hour or so massaging me from the top of the scalp to the base of my neck. Her hands move quickly and deeply; as if she's an artist hurriedly yet precisely sculpting my face from clay.
Honestly, it felt incredible... but I wasn't expecting to see much in the way of results. (After all, I'm on the brink of 30 and don't really need "a natural alternative to Botox.") I was shocked after looking in the mirror, though. My cheekbones were sharp and my chin, usually indistinguishable from my rounded jawline, looked pointed. How could a massage — even a fast-paced and intricate massage — do that?
"When individual muscles and muscle groups are stimulated, people feel and experience the way the facial muscles are interconnected with those in the scalp," Antonia Balfour, the owner of Yin Yang Dermatology, tells The Zoe Report. And since the face is the only place on the body where the skin is actually attached to the muscles below, the impact of muscle stimulation is immediately visible.
However, just like the muscles in the rest of the body, facial muscles need to be regularly sculpted in order to see lasting effects. "In the long term, the muscles get firmer, and then so will the skin," Balfour says. "Best results are seen when Harisienne treatments are consistent and regular." She recommends getting a facial massage like Harisienne two to four times a month.
Instead of doubling-up on Harisienne, I opted to try the FORMA Non Surgical Facelift at Le Jolie Medi Spa next, a thermal treatment offered at cosmetic spas across the country that "harnesses the power of radio frequency and heat to stimulate the formation of new collagen and improve the skin's overall elasticity for long-lasting results," Nourian says. It only takes 45 minutes, "which why we have aptly coined it our 'non-surgical face lift you can do on your lunch break,'" he jokes.
Whereas Harisienne feels more like a relaxing facial, FORMA has a medical procedure vibe (as pictured above). I was seated in an examination chair while a doctor in a lab coat applied a numbing cream to my face (a precaution, since some patients complain about the heat) before he went in with the FORMA radio frequency tool: a heated metal device with a square head that's massaged over the skin in a circular motion. "Because of the handheld device, our medical staff truly is able to physically sculpt and fine tune problem areas on the face, all while diminishing fine lines and wrinkles," Nourian tells me.
The heat is jarring but bearable, and it serves to stimulate the "subdermal" layer of skin, where collagen and elastin are made. The combination of radio frequency and high temperatures actually helps the skin produce more collagen and elastin while "molding" them into the desired shape: "We tighten the jawline, remove nasolabial folds, raise and lift the brow bone area, and sculpt cheekbones," Nourin says.
The doctor worked on the right side of my face first, then snapped a picture halfway through the treatment to show me an in-progress before-and-after. The difference was measurable: The right side of my face look taught, firm, chiseled; the left side of my face looked slack and saggy in comparison. (It's worth noting that my hormonal acne was out of control on the day I had my FORMA treatment, so I wasn't snapping any selfies. But hey, at least I can say this procedure is safe for acne-prone skin.)
After 45 minutes, I expected my sensitive skin to be a little red and inflamed from the heat, but it looked totally normal — albeit, with more definition and fewer forehead wrinkles. There was literally zero downtime, and when I met a friend for lunch an hour later, she said I was "glowing."
But the biggest benefit of FORMA seems to be its potential for serious, long-term results. "For your age demographic, we recommend five treatments once per week; for middle aged individuals we recommend six sessions; and after that, FORMA typically last five to six years," Nourian explains.
I didn't follow up with the recommended amount of Harisienne or FORMA facials — like I said, I don't truly need a non-surgical facelift yet — so I can't report on the long-term effects. But when and if I do ever find myself craving a little nip-tuck, I know where I'll turn first.